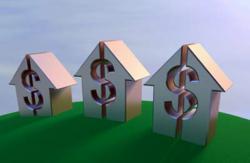 Many buyers are not only seeing the chance to buy homes that are at bargain prices, but they are realizing the impact it can make on their budgets. Why is that? Two words: Rates and Rent.
Knoxville, TN (PRWEB) November 29, 2012
Every week it seems, there is more news that home prices are increasing on a national level. Knoxville homes for sale are definitely following suit. The Holloway Group, the leading Knoxville real estate team at Gables & Gates, REALTORS recently discussed with their clients the top 2 reasons why we are seeing home prices increase. Troy Stavros, Broker and Partner with the Holloway Group stated, "Many of our clients can't understand how prices can be increasing, when what they keep hearing from the national media is how the market is still bad. The truth is, things aren't that bad here in Knoxville and in many other parts of the country. Specific factors are leading to the nationwide price increases, so we thought we would educate our clients on them."
Reason #1: First and foremost, Stavros stated, is what we learned in Economics 101. Supply and Demand. Nationwide the inventory of homes for sale are at historic lows. New homes are at their lowest level seen in 50 years. Existing homes for sale are at a 10 year low. Distressed inventory (i.e. foreclosures) has fallen as well. "Buyers are still out there. A smaller pool of homes to choose from and buyer demand leads to competition for properties. Where competition between sellers might lead to lower prices, competition between buyers leads to higher prices."
Reason #2: Why is there a demand to buy a home now? Affordability. Stavros said, "Many buyers are not only seeing the chance to buy homes that are at bargain prices, but they are realizing the impact it can make on their budgets. Why is that? Two words: Rates and Rent." With mortgage interest rates at all time historic lows a home buyer has more purchasing power than ever before. It wasn't that long ago that interest rates were 7%, and now they hover around 3.5%. On a $1500 a month, 30 year mortgage payment, today's rate lets you afford almost $100,000 more house. Stavros says, "That is buying power! Couple that with the rising cost of rent, and renters are coming out of the woodwork to buy homes, and those that aren't should be."
The advice of the Holloway Group to local clients scouring Knoxville homes for sale is don't wait. "If you find something you like, and your agent, after researching tells you the pricing is in line, jump on it. Waiting too long or making a low offer are the too biggest reasons for losing a home you love. With these inventory levels, this is a different market. Old strategies for buying don't necessarily apply."
ABOUT THE HOLLOWAY GROUP AT GABLES & GATES, REALTORS
The Holloway Group is committed to bringing the best possible experience to fruition for buyers and sellers of Knoxville real estate. At the Holloway Group we don't believe average is good enough for our clients. At the forefront of the Holloway Group is experience. Our team was created to serve our clients even better with specialization and expertise. We know that individually we cannot be everything to everyone so we've come together as a group, bringing all of our different strengths, so you always work with the best. We pride ourselves on being ahead of the curve on technology and how it can serve our clients. When you are a client of the Holloway Group, you can expect to have our entire team of professionals working to fulfill your individual real estate goal. As a member of Leading Real Estate Companies of the World the Holloway Group and Gables & Gates, REALTORS can assist you with finding the most qualified real estate professional to suit your needs, anywhere in the world! Contact us today for assistance.