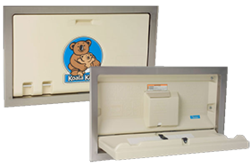 (PRWEB) April 19, 2013
Parents, babysitters, and family-oriented business owners will be thrilled to know that Babystations.com is now offering an old baby changing station classic at a significantly reduced price. The KB100-ST, one of the best selling changing stations of all time, was once sold for $499.00. However, because of recent changes in the company's shipping method, it can now afford to pass on cost savings to its valued customers. The operational improvements have allowed Babystations.com to offer quite a large price drop for its most popular products. The KB100-ST, for example, can now be yours for only $463.50.
The KB100-ST is one of the market's best products for a good reason. Its frame is made from stainless steel, while the bed surface is coated with the odor- and bacteria-reducing Microban® antimicrobial. It is a wall-mounted model that weighs only 30 pounds. The bed surface has a contoured design, and comes with nylon safety straps that keep the child safe and still while on the product. Almost half of the materials that were used in its construction are recycled, which means that it can also contribute to a building's Leadership in Energy and Environmental Design (LEED) credits. It even complies with the Americans with Disabilities Act (ADA) standards if installed properly.
Babystations.com sells only the highest quality products at the most reasonable prices. It owes its resounding success to the efforts of its three founders, Cameron, Jerry, and Matt, all of whom are also very proud fathers. As such, they are always sensitive to the needs of fellow parents and offer products to answer those needs. Aside from the popular baby changing station, Babystations.com also offers child seating products like high chairs and booster seats, as well as other childcare accessories like sanitary bed liners and diaper dispensers.
About the company: Babystations.com is managed by Ekom. It is an online retailer with a long history of trusted service. They sell a wide array of products that include baby changing stations, high chairs, and other childcare accessories. Despite being a product-based business, the company understands the value of providing quality customer service. They provide detailed product information, give out the best prices, do their best to ease purchasing difficulties, and respond to complaints, questions, and products in the timeliest manner possible.