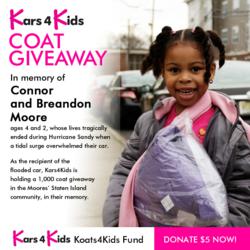 There was no question in our minds that this donation had to be treated differently from all of the other donations we receive
Lakewood NJ (PRWEB) January 01, 2013
Following the donation of the car involved in the tragic loss of two precious children to Kars4Kids by NYPD hero Lt. Kevin Gallagher, the national car donation charity announced that they would be using the funds exclusively for a kids coat giveaway in the area that the Moore family comes from.
Today the date and time has been released for the event which will take place on Tuesday January 8th at 11 AM. Location has yet to be determined.
Kars4Kids will be distributing at least 1,000 high quality children's winter coats for free on a first come first serve basis although Kars4Kids spokesman Steven Weldler says there will be more than enough for everyone. "We will do our best to ensure that everyone who needs will receive a beautiful, high quality children's coat."
The fund was conceived when Kars4Kids employees were shocked to learn the horrible background behind the heavily damaged 2003 Blue Ford Explorer received a few weeks after Hurricane Sandy devastated much of the Tri-state area. Lt. Kevin Gallagher, praised by President Obama for standing by the Moore family during their time of need, made the donation and told the customer service representative the horrific story of two innocent children ripped from their mothers arms during the height of the storm, after being denied shelter by nearby residents. "There was no question in our minds that this donation had to be treated differently from all of the other donations we receive" Weldler said Wednesday, "exceptional stories call for exceptional responses". That is why Kars4Kids decided to start a separate fund based off of this donation to make a real difference in storm affected areas of Staten Island.
The location of the event has yet to be announced and Kars4Kids is hinting at the possible attendance of local dignitaries and politicians.
To learn more read the Daily News story about the Kars4Kids event.