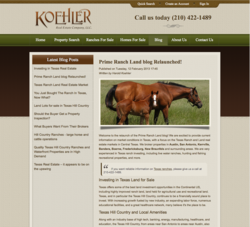 The blog serves buyers, investors, and browsers alike to give them real answers and offer resourceful articles of their interest
San Antonio, Texas (PRWEB) May 02, 2013
Luxury ranch selling website http://www.PrimeRanchLand.com recently announced upgrades to features and real estate search capabilities. Now they unveil a new blog that focuses on helping investors searching for land for sale in Texas. Their Prime Ranch Land Blog has already covered topics buyers looking for Texas ranch land should read before, during, and after the buying process. The mission of the blog is to assist buyers find necessary and helpful information as they proceed in the ranch land search.
Prospective buyers will find relevant and timely information to make the sometimes tedious process of investing in ranch land more transparent and seamless. By answering real questions and showcasing listed ranches for sale in the Hill Country around San Antonio, Austin, and Kerrville, Koehler Real Estate hopes to bring their expert advice and skillful reputation online for buyers. Real estate buyers from all over the country and throughout Texas have found their approach helpful when making the decision to purchase the ranch of their dreams. This blog is to give online users an opportunity to experience the Koehler Real Estate difference.
"Some buyers are professionals who want to escape city life, and some are just interested in investing in the growing Texas real estate market," explains owner, Harold Koehler. "The blog serves buyers, investors, and browsers alike to give them real answers and offer resourceful articles of their interest."
They ensure the integrity of all information through their commitment to ongoing education and professional development. As real estate markets change, financing options become available, and more updates of interest to buyers become available, the blogs arsenal of knowledge will increase. The content also demonstrates their diverse business background and personal working knowledge of Texas real estate, to help their clients feel more at ease. It is also chocked full of internal links to get more information about investment ranches in Texas, as well as easy contact with them to get further details.
Texas Prime Ranch Land Blog really shows the buyers' their commitment to keeping them well informed about the improving and growing Texas ranch land market. After finding helpful tips, the user can easily begin searching for Texas ranches by county, city, zip code, or map. Users are encouraged but not required to create an account, and bookmark for regularly updated content regarding Texas real estate, especially luxury ranches throughout the Hill Country, Austin, San Antonio, and surrounding counties.
About Koehler Real Estate
Koehler Real Estate, LLC does more than sell prime ranch land and luxury real estate in Texas. Our extensive knowledge of the terrain and region helps us provide most of the information you would need from search to close. Contact us today at info(at)primeranchland(dot)com, and feel free to follow us on Facebook, Twitter or Google+ for new property listings, tips, and Texas ranch news.