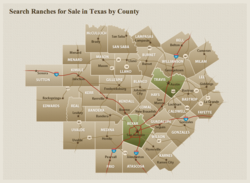 We're very pleased with the functionality of the new site, along with the viewer presentation and ease of use, there's just not an easier or more thorough way to search for a property
San Antonio, Texas (PRWEB) April 09, 2013
Buyers searching for ranches and homes for sale in Texas will be pleasantly surprised by upgrades and more user-friendly features at http://www.PrimeRanchLand.com. Whether searching by County, City, Zip Code, Address, Listing number or by Map, the combination of the data from multiple MLS systems has made this luxury real estate site highly effective and powerful. Visitors to the website will find it easy to navigate its pages and find the properties they want. After selecting the desired area and some basic search criteria like number of acres, square footage, beds and baths, the search can be narrowed down even further by waterfront property, builder's name, name of the subdivision, homes on the golf course or homes with pools, homes in gated communities, homes with a view and much more. Users will find this website resourceful and chocked full of details, photos, virtual tours and enhanced search capabilities.
As a real estate brokerage firm specializing in selling ranch and rural properties throughout Texas, Koehler Real Estate recognized early on the importance of web marketing in the real estate industry. "While our prior website was a very useful tool and had all the information necessary to provide buyers exactly what they needed, our recently released version is much more refined while maintaining the simplicity of use" states Koehler Real Estate owner, Harold Koehler. "We're very pleased with the functionality of the new site, along with the viewer presentation and ease of use, there's just not an easier or more thorough way to search for a property" states Koehler.
Koehler Real Estate invested much time, effort, and care to produce the most comprehensive and easy-to-use real estate website that allows users to search and view the largest selection of Texas homes, land and ranches for sale by county or city, including waterfront properties, live water ranches, hunting land, farmland, recreational ranches and luxury estates in San Antonio and Austin. More than ever information is pulled and provided to the buyers for a better experience and access to very advanced search results. For example, in addition to just basic property information, visitors can now find the information about property tax rate, estimated and actual property tax amount, property tax exemptions, mineral rights, easements, HOA name and dues, price per square foot and acre, available utilities and much more. In addition every property is linked to Google Maps, and is displayed on the website on Satellite Map and Street level view.
Whether on a mobile phone, tablet, or home computer, the new website is fully optimized for ranch buyers, or investors looking for home or land for sale in the Texas Hill Country. It is updated daily with hundreds of new properties that just hit the market, and visitors are encouraged to register and create an account, so they can easily save their searches, keep track of their favorite properties and receive the email alerts with the newest listings that meet their search criteria. "Our commitment to finding the right home or ranch and securing the property that suits our clients needs is top priority with us" explains Harold Koehler.
Koehler Real Estate specializes and focuses primarily on selling luxury homes and ranches near San Antonio and Austin areas, including surrounding areas of Texas Hill Country. The company is utilizing the best tools and technology to serve the needs of today's Home Buyers. With close to 30 years of diversified business and management experience, the professional service and ongoing professional development of the team helps better to serve buyers and sellers of unique, Texas farm and ranch properties. Stay up-to-date with their latest listings,real estate blog posts, and news by connecting with them on Facebook and other social media sites.