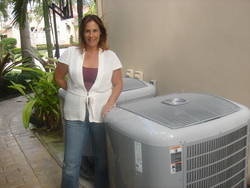 The core of a green building ensures energy and resource efficiency, better water conservation and indoor air quality as well as environmentally sensitive site design
Boca Raton, FL (PRWEB) January 29, 2008
It seems "green" is the new "black" in Boca Raton, FL and Kogen Construction http://www.kogenconstruction.com, a luxury homebuilder and remodeling company is building green to save the earth one project at a time.
Entrepreneur and fourth-generation builder, Julie Miller-Kogen leads the green way in Boca Raton's most prestigious communities such as luxury real estate Woodfield Country Club, making quality, eco-friendly construction that is rich in design, her signature motif.
"The core of a green building ensures energy and resource efficiency, better water conservation and indoor air quality as well as environmentally sensitive site design," said Miller-Kogen, who has built dozens of projects in Boca Raton and specializes in green building, construction and renovations. "Building eco-friendly homes has always been my standard, long before it became trendy and mainstream."
McGraw-Hill forecasts that by 2010, between 5 and 10 percent of new construction started (both commercial and residential) will be green projects. That projected growth translates to between $19 billion and $38 billion for the residential construction market alone.
Woodfield Country Club homeowners, David and Betsey Adams came to Miller-Kogen when they wanted to build a home for their children who suffered from allergies. In order to do this, Miller-Kogen selected hardwood flooring throughout the home to reduce allergens common in carpeting as well as utilized a substitute foam insulation called Lcynene, a non-allergenic air-sealing product that prevents dust and excess moisture. Other benefits of the replacement insulator, Lcynene are that it is extremely eco-friendly and energy efficient. Additional green features Miller-Kogen utilized are Puron air conditioning systems, which help reduce energy costs by 40 percent.
"Energy efficient homes are better for your health and promote clean living while protecting the environment," said Miller-Kogen. "The issue some homeowners have with building green is that it is more expensive and completely invisible to the eye but future benefits reside in lower utility bills and healthier living."
What makes a green and healthy home?
Kogen Construction Company offers high performance products that provide cost effective energy consumption, and a healthier, more environmentally friendly place to live.
This includes:

High efficiency appliances
High efficiency air conditioning
Lcynene foam insulation for roof and walls
Compact florescent light bulbs
Low E argon-filled windows
Bamboo wood flooring
Paint with low volatile organic compounds
Window insulator products
Water efficiency landscaping and plumbing fixtures.
Propane gas for tankless hot water, ranges, BBQ and dryers
About Kogen Construction Company
Kogen Construction Company is dedicated to building custom luxury homes, green renovations, and remodeling of kitchens and baths in the luxury home market. Owner Julie Miller-Kogen is personally involved in every detail, decision, and communication involved with each project. Kogen Construction Company believes clients deserve this intensely hands-on approach to ensure the quality of the finished product. Undertaking commercial and residential renovation and new construction of any size, Kogen's licensed general contractors and interior decorators keep a watchful eye on every project making for an efficient, successful and sophisticated home or renovation.
For more information visit: http://www.kogenconstruction.com.
Phone: 561.988.1075
Boca Raton - Palm Beach - Florida
###