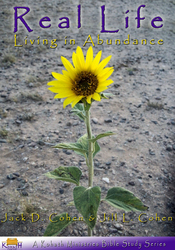 Real Life: Living in Abundance.
Hockessin, DE (PRWEB) September 29, 2009
Kohath Ministries announced today the launch of its new Bible-study series, "Real Life: Living in Abundance." Contrasting all the daily messages of uncertainty in the world, this study teaches Christians to look past their circumstances and make biblical choices that improve their lives.
The basis for the "Real Life" series lies in John 10:10, in which Jesus said, "I came that they may have and enjoy life, and have it in abundance (to the full, till it overflows)."(AMP)
Jack Cohen, pastor and co-founder of Kohath Ministries, said, "You don't have to look far today to find people living less than full and abundant lives. Just dealing with the issues of each day can steal our joy and rob us of peace. But this passage in John is clear. Jesus came to free us from our burdens and give us abundant life here and now. That's what 'Real Life' is all about."
The study is made up of a series of topics that people deal with every day - love, fear, pain, failure, trust. Participants spend four weeks exploring each topic, not only in the reference to the Bible but also in how those topics play out in their own lives. "So many Bible studies focus on teaching you something," said Jill Cohen, co-founder of Kohath Ministries, "but the purpose of 'Real Life' is more than that. This study is designed to not only teach participants but also to enable them to experience something meaningful - the life-changing power of God."
The first two topics in the series have already been released, and more topics are to be available soon. Topic No. 1, "Life Is A Pain," deals with the realities of pain in life and the keys to finding joy and peace in the midst of it. Topic No. 2, "Love Life," redefines love and seeks to improve human love relationships with God and others.
"The Bible says God has a plan for each of our lives, but when the daily distractions of life come in, they can prevent us from seeing it," said Jack Cohen. "It is our prayer that this study series will help people break the barriers that hold them back and enable them to experience the 'Real Life' that God intends."
For more information, visit the Real Life page on the Kohath Ministries' website, Amazon.com (search "Kohath Ministries") or call 302-438-2473.
Kohath Ministries Incorporated is headquartered in Hockessin, Del., and led by Jack Cohen and Jill Cohen, brother and sister founders. More information on Kohath Ministries and its founders can be obtained on the website.
####