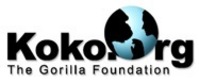 See cry. See cry. Penny Good.
Redwood City, CA (PRWEB) July 4, 2009
Koko, the lowland gorilla who can speak to us through the use of American Sign Language (ASL), spent the day celebrating her 38th birthday. Koko's full name is Hanabi-Ko, meaning "fireworks child" in Japanese. Koko celebrated her special day with her self-chosen mate, Ndume, and her favorite caregivers. Through conversation she communicated her three birthday wishes.
Koko communicates through ASL, has a vocabulary of more than 1300 words, and understands much more spoken English. Dr. Penny Patterson, co-founder, president and research director of The Gorilla Foundation, chatted with Koko, and she let her know her top three wishes:

Koko continues to hope to have a baby of her own, or adopt
Koko looks forward to the day when the Maui Preserve is a reality and she and her family can enjoy the additional space, and a better climate (learn more about the preserve)
Koko hopes that people will become aware of the plight of her species before it is too late (take action by visiting http://www.koko.org)
Koko's birthday is a big day every year at The Gorilla Foundation. Today Koko opened presents and feasted on her requested fare of Japanese Sushi, Vietnamese tofu curry, and good ol' American 4th of July treats such as vegetarian hot dogs and layered gelatin salad.
According to Patterson, "All of Koko's wishes are within reach. Koko could potentially still conceive or adopt a baby gorilla, and members of her species are known to live well into their fifties. In addition, work is underway to make the Maui Preserve a reality that we believe will play an important role in furthering the survival of the species. We feel there is a lot to celebrate. Happy birthday, Koko, good friend and 'fine gorilla person'!"
Koko describes herself as a 'fine gorilla person' and continues to amaze her friends and caregivers with her intelligence and emotional depth. For example, while she and Penny were recently watching an emotional documentary, a dog had to be put to sleep, and Patterson teared up. The next day as Penny related the story to a colleague, Koko added to the discussion and signed, "See cry. See cry. Penny Good." Watch Koko sign here.
To view or download Koko's birthday celebration photos, please visit here: http://www.koko.org/pr/kbday2009/images.html
About The Gorilla Foundation
The Gorilla Foundation is dedicated to the preservation, protection and well being of gorillas through interspecies communication research and education ⎯ Conservation through Communication. The Foundation was established in 1976 and is best known for its groundbreaking work with two western lowland gorillas, Koko and Michael, who became adept at using American Sign Language. The results are published in numerous research papers, books and videos available in our bibliography.
The Gorilla Foundation is a non-profit 501c3 corporation and is underwritten by donations from individuals, grants from foundations and corporations, and educational product sales. The Foundation receives no support from government sources. Donate here.
###