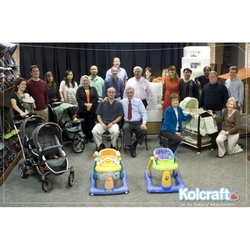 Through these online avenues, we want to get to know you and we want you to get to know us.
Chicago, IL (PRWEB) February 23, 2010
In an effort to engage and interact with product consumers, Kolcraft has redesigned and expanded their website.
Extending beyond the products they manufacture, Kolcraft has added a parent resource center which features pertinent content about preparing for baby, parenting and other child related topics. This expanded parenting section also includes the latest news and announcements from Kolcraft, an online family photo album, buying guides, parenting tips and a blog. The website fully integrates with social media so that people can share and follow Kolcraft content on the platform they prefer.
Tom Koltun, President of Kolcraft, launched the new website in baby announcement style.
"Welcome to Kolcraft's New Website! Born February 17th, 2010 and weighing in at 31 pages, our new website gives us an opportunity to engage more with you. (…) Through these online avenues, we want to get to know you and we want you to get to know us. Please help us "feed" our new baby with your thoughts and ideas so this blog and our other social media sites become your "home" where you feel free to talk about your amazing parenting experiences. By listening to you, we know we will continue to create innovative "must have" baby gear for your family and learn so much more along the way. I'm looking forward to hearing from you and going on this online parenting journey with you…no stroller necessary for this ride!"
Blog moms have responded positively to the site.
Kolcraft is a name I trust completely when it comes to needs of my children. Kolcraft is a well rounded company that cares not only about having quality, affordable, and versatile products, but about families in general and doing what best by them. Always. – Jennifer
Kolcraft plans to add more content and features to their new website in the upcoming months. To view the site, please visit http://www.Kolcraft.com.
###