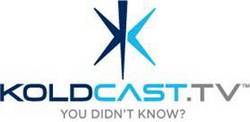 We're excited that KoldCast will be launching our web-based series. As we enter into this venture with them, we are pleasantly surprised at the talent and expertise they bring to this new frontier of internet entertainment.
Los Angeles (Vocus) February 3, 2009
Broadband television network KoldCast TV today announced that it has launched a new Series Pilots channel dedicated solely to the introduction of pilot episodes of series programming created for broadband television and traditional television. The new Series Pilots channel currently features pilot episodes from web series creators and other KoldCast TV partners seeking funding and/or brand sponsorship for their creative vision, as demonstrated by the respective pilot episode(s) and trailers now playing. The new channel will soon be expanded to include pilots from network and cable TV.
KoldCast TV CEO, David S. Samuels, said, "The sheer number of pilots that are produced every year for both broadband and traditional television distribution are staggering - and most are only seen by industry executives - few are ever viewed by the audience they were intended to entertain. Today, we open our Network to all production companies, series creators and bona fide networks interested in introducing their 'babies' to the KoldCast TV viewing audience, and to those who fund, invest or are otherwise seeking opportunities to promote their brand within entertainment content."
Samuels expects the new channel will grow exponentially as the opportunity becomes more widely known and said KoldCast is prepared to open new channels, similar to Series Pilots, that will allow producers to incubate and test content in a variety of creative ways in advance of a full launch.
KoldCast TV also begins immediate distribution of four new web series (in alpha order): "Dirty Bomb Diaries," "Jenn2.0," "OzGirl" and "The Temp Life."
"Dirty Bomb Diaries" is a fictional story, witnessed through the eyes of a single woman, as she struggles at Ground Zero with no emergency supplies, sporadic phone service, a lack of police support and a city ready to plunge into chaos after a radioactive dirty bomb explodes in a large city - her city! Everything that she has come to rely upon - running water, electricity, law enforcement - is systematically taken away from her. She goes from being the sweet, girl next door, to a hardened woman able to confront the downfall of civilization as a result of this disaster. She is forced to survive on her own and tells her story though Vlogging. "Dirty Bomb Diaries" has you asking yourself what you would be willing to do if you were trapped in a city when a dirty bomb explodes. The lead role is played by Misty Van Cleve (The Young and the Restless). http://www.koldcast.tv/video/dirty_bomb_diaries_trailer
Sean Hinchey and Eric Tozzi, the creative forces behind "Dirty Bomb Diaries," said, "We're excited that KoldCast will be launching our web-based series. As we enter into this venture with them, we are pleasantly surprised at the talent and expertise they bring to this new frontier of internet entertainment."
"Jenn2.0" is the story of Jenn Leary, a young woman determined to start a new life in San Diego while building a name for herself as a Social Media Consultant. Jenn has prepared herself to use all the latest technology and tools that can be used to service new clients, generally web start-ups, as she creates a brand for herself - Jenn2.0. Jenn attempts to remain highly visible and in constant contact with both her large network of real life and online friends. She'll use Twitter, Facebook, her own blog, video streaming and many other means to become recognized as a social media guru. Her clients need constant attention, while her real life friends also demand her time. While Jenn may be prepared for the volume of tweeting, chatting and blogging now required of her, is she prepared for the price she'll pay when she tries to live an always on, always connected Web2.0 life? http://www.koldcast.tv/video/jenn20_trailer
Series co-creators Darren Elwood and Rob Lewis describe the creative vision for "Jenn2.0" as "Sex and the City" meets "The Guild. They also say that "With its new Pilots channel, KoldCast TV presents a unique and exciting opportunity. We think it's an excellent platform to attract a community of followers and brand sponsors; both of whom can help us extend "Jenn2.0" beyond the pilot and into a compelling series."
"OzGirl" is an exciting new social web series, from filmmaker Nicholas Carlton, designed to push the boundaries of web storytelling. The series' primary character, Sadie (Sophie Tilson), is a young, bubbly, aspiring photographer that has just moved to big city Melbourne after growing up in the quiet countryside. She moves in with her cousin Megan (Shanrah Wakefield) who is a former child star who grew up on Australian television, playing character Jenny Carter in Australia's longest running sitcom. Constantly mobbed by fans, Megan has graciously taken Sadie under her wing in order to teach her a thing or two about city life. Tune in as Sadie juggles everything from career to her love life in this social web adventure. http://www.koldcast.tv/video/ozgirl_teaser
"The Temp Life" is a serial web comedy produced by CJP Communications and Spherion Corporation. Inspired by "The Office," "The Temp Life" follows recent college grads Mark, Laura, Paul and Caitlin as they try to earn a living working as temps for Commodity Staffing, a notoriously shady temp agency headed by clueless CEO and self-proclaimed "ambassador of fun," Nick aka "Trouble." When Nick gets conned into selling Pedtastic, his startup social network for shoelace-makers, to bankrupt Commodity Staffing in a multi-hundred dollar transaction, he uses his newly-inherited clock-watchers as cash cows with time sheets, sending them on every nightmare temp job imaginable. Directed by Indie filmmaker and "Tom Cruise is a C*ck Block" star Evan Ferrante, "The Temp Life" begins its third season February 20th on KoldCast TV, Spherion.com and several social video sites. http://www.koldcast.tv/video/the_temp_life_trailer
"We are very excited to share "The Temp Life" with the KoldCast audience and to be included among such a talented roster of creators and producers," said series creator and executive producer Wilson Cleveland, Vice President, Digital at CJP Communications, who created and executive produces "The Temp Life."
Of the four new web series, "Dirty Bomb Diaries," OzGirl" and "The Temp Life" will each be provided with a TiVo® feed, pursuant to KoldCast's recently announced distribution deal with TiVo.
About KoldCast TV
KoldCast TV, launched in March 2008, is a Broadband Television Network delivering entertainment programming, on-demand, to a global audience, across a wide demographic, via the Internet. Entertaining video content, both short- and long-form (coming shortly), is globally streamed in full-screen high-definition and standard definition beauty via KoldCast's own line of Advanced Media Players and delivered globally by Limelight Networks' CDN. Original web series, music, comedy, sports and lifestyles programming create the nucleus of the KoldCast TV Network. KoldCast is recognized by its content partners for its value-added and personal approach to partner relationships, and its commitment to the marketing, promotion and organized discoverability of shows selected for broadcast on its Network. For more information, visit http://www.KoldCast.TV.
Media Contact
Gregory L. Samuels, VP, Content Management
http://www.KoldCast.TV
949-861-8949
###