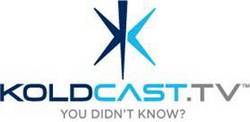 We are absolutely thrilled to have the opportunity to distribute such an innovative and captivating scifi series
Los Angeles, CA (Vocus) January 13, 2009
KoldCast TV (http://www.KoldCast.tv) announced today that it has entered into two new web series distribution deals: the first with independent production studio and management company Generate, which brings the new season of Pink: The Series, along with seasons one and two, to KoldCast TV, and the second with Captain Films, which brings the entire first half of season one of the Sci-Fi thriller, After Judgment, to the burgeoning Network, along with the first episode of the season's second half.
Webby-nominated, Pink: The Series is a graphic novel-style dark comedy starring Natalie Raitano ("V.I.P.") as Natalie "Nate" Cross, a reluctant government assassin who, between kills, yearns for a family of her own. Season three continues Nate's struggle to balance a complicated dating life with the demands of her high-risk, top-secret profession. Building on the momentum of the first two seasons, season three delves deeper into Nate's character as a college student through a series of flashback episodes that promise to reveal the events that led her to choose the life of a contract killer.
KoldCast TV CEO, David S. Samuels, says, "Pink might as well be red. The show is hotter than fire. It's truly a great story and it has everything many viewers will be interested in - great writing, unparalleled production value, guns and incredible sex appeal, thanks to Natalie and cast. Oh yeah, there are guys in the show, too!"
And then there's KoldCast's impressive new Sci-Fi series, After Judgment, where a rag tag band of strangers have been left behind after the end of the world. KoldCast struck the deal with filmmaker Michael Davies' Captain Films banner to distribute the show on the KoldCast TV Network. The deal also sees the series made available for download on TiVo via the KoldCast/TiVo deal, recently leaked, though the two companies are working on their own announcement.
KoldCast and Captain Films will be simultaneously releasing new episodes of After Judgment beginning today, Tuesday, January 13th, marking the premier of the second half of season one. "We are absolutely thrilled to have the opportunity to distribute such an innovative and captivating scifi series," says Samuels. "We are flat out excited to be working with this new breed of multi-faceted filmmakers; Michael (Davies), who wrote, directed and edited the series and his producing partner, and lead actress, the gorgeous and talented Taryn O'Neill, have created a top quality show with a huge mythology fueling the story, and they've done it independently to boot." KoldCast will also "air" Before Judgment episodes. This companion series explores the events leading up to the end of the world as seen through the eyes of the After Judgment characters. "It's very, very cool," Samuels adds.
"KoldCast TV has really impressed us throughout our relationship thus far. Their Network site is simply beautiful and well managed. Their commitment to their Content Partner's drew us to their Network and their work to-date on behalf of After Judgment makes KoldCast TV a perfect venue for a show we are quite proud of," said Davies. O'Neill continues, "Beyond our own After Judgment site, we can't think of a better home for our show than what has been created by KoldCast TV. If you haven't visited yet, get to it! It exemplifies class. And don't miss their HD Player."
About KoldCast TV
KoldCast TV, launched in March 2008, is a Broadband Television Network delivering entertainment programming, on-demand, to a global audience, across a wide demographic, via the Internet. Entertaining video content, both short- and long-form (coming shortly), is globally streamed in full-screen high-definition and standard definition beauty via KoldCast's own line of Advanced Media Players and delivered globally by Limelight Networks' CDN. Original web series, music, comedy, sports and lifestyles programming create the nucleus of the KoldCast TV broadband network. KoldCast is recognized by its content partners for its value-added and personal approach to partner relationships, and its commitment to the marketing, promotion and organized discoverability of shows selected for broadcast on its Network. For more information, visit http://www.KoldCast.TV.
Season three, first episode: http://www.koldcast.tv/video/speed_dating_kills_2_ep_21
Season one, episode 9: http://www.koldcast.tv/video/i_bleed_for_you_ep9
About Captain Films
Captain Films, Inc. was formed in 1998 by Vancouver Film School graduate Michael Davies. Under the Indie production banner, Davies has directed such critically acclaimed features as The Absent Phallus and Hair of the Dog and secured distribution for a number of innovative shorts such as Message: Received and Ashes. After Judgment is Davies' entry into the web series realm and his first project with producing partner, Taryn O'Neill. The pair have two additional web series and a TV project in development.
KoldCast TV Contact
Brian J. Samuels
MediaInquiries(at)KoldCast(dot)TV
http://www.KoldCast.TV
Captain Films Contact
Michael Davies
Taryn O'Neill
info(at)captainfilms(dot)com
http://captainfilms.com
http://afterjudgment.com
# # #