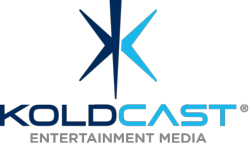 I think this story is even more relevant and important now than when I wrote the book.
Irvine, CA (PRWEB) October 12, 2011
KoldCast Entertainment Media, LLC, owners of KoldCast TV, the first online television network dedicated solely to original episodic television Shows produced by independent filmmakers, today announced that it plans to open its network to documentaries and short films. The announcement marks the first time since its 2006 launch that the company has added new programming categories beyond short-form television Shows (aka web series).
KoldCast operates its network similarly to traditional broadcast and cable television networks, and distributes its on-demand programming internationally and domestically through licensing deals with other television networks and online destinations seeking premium programming. KoldCast co-founder and CEO David S. Samuels said the company has considered the expansion into documentaries and short films for several years, but recent developments have conspired to make the expansion a reality – citing international demand, improving market conditions for independent programming, and the rising popularity of KoldCast among independent filmmakers.
"The number of viable distribution options available to indie filmmakers is actually quite limited," says Samuels. "Professional filmmakers seek a professional viewing platform for their work, one which provides a bona fide opportunity to actually see their work discovered by the viewing audience. This is precisely what KoldCast TV offers, but with the additional opportunity to have their work introduced to buyers around the world."
In preparation for the expansion, scheduled for mid-December 2011, the company has been quietly licensing docs and short films from filmmakers seeking a dedicated slice of real estate on KoldCast TV. "Entirely new sections of the KoldCast TV site, uniquely designed for each new programming category, are in development, and we expect to showcase these exciting new properties in an organized and impressive manner," Samuels said.
KoldCast will continue its practice of curating content. All documentaries and short films must meet certain quality standards established by the network in order to have a shot at earning a home on KoldCast TV, and accrue to the company's expanding service offerings.
The following are examples of upcoming documentary and short film programming on KoldCast TV:
The new Wall Street documentary series, "The Zeroes," produced by Film at 11 TV out of Brooklyn, NY, will be part of the network's December launch. "The Zeroes" tells but one of the truly horrifying stories behind the Occupy Wall Street movement now rattling the White House and Congress.
In "The Zeroes," we get a ringside seat alongside Randall Lane, former head of Forbes' Washington Bureau, now Editor of Forbes. Lane knew what the zeroes decade would be about. He started Trader Monthly – a slick glossy magazine that was to become the GQ of Wall Street. Trader Monthly portrayed a glamorous world of yachts and private jets, fine wines and lavish mansions. Trading floors were functioning like giant casinos, and the banking community was gambling with the public's money. Lane and his company got caught up in the madness. They had front row seats. "I think this story is even more relevant and important now than when I wrote the book," Lane said. "The Zeroes" is a morality tale fitted for our times.
Watch Episode 1 of the five-part documentary series "The Zeroes": http://onkc.tv/tz1
Note: News media download link to 30-second excerpt from "The Zeroes": http://onkc.tv/tz2
Award-winning Los Angeles filmmaker Barry Gribble/Integral Arts has good reason to bark about his short film "DOG" – it's already won several film festival awards. "DOG" is an uncommon comedy about a common radio shock-jock: Dog Rollins. Dog is making his way through life, ticking off as many women as possible when he gets the news - his new co-host must be a woman. We watch as he struggles with finding a partner, and as they struggle to deal with each other while hiding their biggest secrets. "DOG" is rated MA for language and theme.
Watch the short film "DOG": http://onkc.tv/dog
Both "The Zeroes" and "DOG" are nicely representative of the entertainment experience viewers can expect to see when the new Documentary and Short Film channels premiere on KoldCast TV this December.
ABOUT KOLDCAST ENTERTAINMENT MEDIA
KoldCast Entertainment Media is an entertainment licensing, representation, distribution, and marketing company specializing in independent television properties, which includes original episodic programming, historically referred to as web series, as well as documentaries and short films produced by independent filmmakers from around the world. Among KoldCast's entertainment media properties are KoldCast TV and The Sixth Wall, aka The KoldCast TV Blog. KoldCast TV was the first and is the leading online TV network for original episodic programming. Unlike virtually every online video site, KoldCast TV curates and licenses programming from independent production companies and filmmakers, and delivers a Best-of-Internet discovery experience. KoldCast TV is free to all viewers. New Shows premiere weekly and new episodes are released daily. KoldCast TV programming can also be watched on popular set-top boxes like Boxee and Roku, and on Internet-enabled televisions from Vizio, Best Buy's Insignia brand and others. KoldCast TV is seen in every country around the world. http://www.koldcast.tv
FOR ALL MEDIA INQUIRIES, PLEASE CONTACT:
KoldCast Entertainment Media, LLC
MediaInquiries(at)KoldCast(dot)TV
Film at 11 TV
Jennie Walker, VP Business Development
Jennie(dot)Walker(at)Filmat11(dot)tv
Integral Arts
Barry Gribble, Filmmaker
Barry(at)IntegralArts(dot)com
# # #