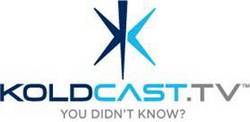 Los Angeles, CA (Vocus) February 26, 2009
Broadband television network KoldCast TV today announced that it has inked six new deals which bring the addition of six new shows to its expanding lineup of original programming created specifically for Web TV distribution. Four new comedy series, a drama and a travel show are making their debuts on the Network.
"When we started KoldCast just over two and half years ago, we believed that there were large numbers of incredibly creative and talented people hungry for an organized distribution channel, a Network, open to new concepts, ideas and forms of entertainment, where their independent productions would have a genuine and fair opportunity to be introduced to entertainment consumers around the world. Today we recognize just how much we underestimated these numbers - and just how prolific our industry really is," said KoldCast TV CEO, David S. Samuels. "These six new shows not only represent the true opportunity presented by Web/Broadband TV, they present people of genuine talent who now have control over their own destiny - and we are thrilled to introduce their fun and entertaining shows to our viewing audience."
Earning their way into KoldCast TV's Series Comedy lineup are, "My Two Fans," "Assisted Living," "Anarchy for Breakfast" and "American Heart."
"My Two Fans" is a fictional 16-episode web series produced by Max Goldenson's digital production company MWG Entertainment. Lauren Iungerich (who has written projects for The Weinstein Company, CBS Studios, The CW, Fox 21, ABC Family, Akiva Goldsman, Mel Gibson and Raja Gosnell) is the creator and director of the series.
"My Two Fans" stars Barret Swatek ("Quarterlife," "7th Heaven") as Kate, a single woman navigating the brutal world of dating. Kate is shadowed by her "two fans" - Franklin (Todd Felix/"The Mentalist") and Teddy (Bill Escudier/"The Comeback," "Bones") who, as fans (not friends) insert themselves into Kate's life, root her on through life's ups and downs and clean up her dating disasters.
"We are pleased to be partnered with KoldCast TV in launching our first project. KoldCast's new Pilots channel is a platform that will help us extend our brand and tap into a built-in audience. Our content targets the under-served internet savvy, adult female audience, a rapidly growing audience attractive to brand sponsors", said series executive producer, Max Goldenson. http://www.koldcast.tv/video/my_two_fans_trailer
"Assisted Living" follows down-on-his-luck Dustin as he struggles to get back on his feet after being dumped by his girlfriend and having to live with his sister. Dustin, an aspiring stand-up comedian, pulls material from his awkward existence where his best friends are a homeless man and his guinea pig Swayze. When he tries to re-enter the dating pool, every flaw is magnified, and Dustin's pension to say whatever comes to mind without thinking backfires regularly, embarrassing everyone in his life.
Now entering its third season, "Assisted Living," created and written by David J. Miller, continues to explore awkward situations. No topic is off limits as "Dustin," portrayed by real life stand-up comedian Dustin White, says what many of us think, but are too smart to say out loud. "Assisted Living" is produced by ViralFilmVideo.com, and is filmed in Chicago, where it draws from a deep pool of stand-up and improv talent.
Miller says, "'Assisted Living' is proud to welcome KoldCast TV and is excited to introduce the show to an even larger audience through KoldCast's exciting new Network and distribution deal with TiVo." http://www.koldcast.tv/video/in_the_butt
"Anarchy for Breakfast" follows two roommates on opposite ends of the spectrum - socially awkward hipster Penny (Kelli Bland) and free-thinking wannabe anarchist Desdemona (Lorri Hamm-Wilson) - who get into messy adventures on the outskirts of civilized behavior. Austin-based filmmakers Scott Miles and Collin Cannaday describe their series as a "post-9/11 neo-feminist version of 'The Odd Couple' dumped in a blender with half a cup of pop culture and four tabs of ecstasy."
"KoldCast TV is a perfect fit for 'Anarchy,'" Miles says, "I always envisioned the need to partner with a distributor to help bring our series to audiences in an often cluttered online environment. From day one, KoldCast TV met and exceeded our expectations, offering not only superior video quality and a TiVo feed for our series, but a passion and enthusiasm for our project that rivaled our own."
http://www.koldcast.tv/video/date_night_ep_1
"American Heart" is a zombie comedy about a motley crew of survivors combating boredom and the Undead from inside a local hospital. Series co-creator, Andy Mitchell, assures "You've never seen the zombie apocalypse quite like this. We go fishing for zombies with human organs. It's that kind of show."
The unlucky group of survivors is comprised of a sexy reality television host, a clumsy small town sheriff, a washed up actor, and a pair of high school sweethearts. Told in a mockumentary style, "American Heart" is a character comedy reminiscent of the Office... with zombies, and a little more gore.
KoldCast has provided "American Heart" with more exposure than we ever could have hoped for by self-distributing. Co-creator Graham Bowlin says, "All we ever wanted was to make Internet viewers laugh so hard they vomit. Now, with KoldCast TV, we can also make TiVo subscribers lose their lunch! We're very excited to be working with such a committed team."
http://www.koldcast.tv/video/meet_lucy_simms
The addition of "Life After Lisa" to KoldCast TV's Series Drama programming lineup is no mystery… or is it?
"Life After Lisa." College life, 1987. Jessie Beaumont, a film major, moves into her new dorm room a semester late. As she finds her way around the school, she realizes that she's the "one" in the infamous room - the room where Lisa, a sexy co-ed who died in a car accident, lived all three years while at Brighton College. When Jessie finds herself surrounded by Lisa's old friends, all who share stories about Lisa, she becomes obsessed with Lisa and decides to make a documentary about her for film class. But the more people Jessie interviews, the more she learns about the many sides of Lisa. She must choose what side of Lisa to show - the side the general Brighton population knows - or the side she thinks is the truth.
The series features New York-based actress Stephanie Danielson in the duel roles of Jessie Beaumont and Lisa Shatner. The series also features Corey Parker Robinson (Detective Leander Sydnor/"The Wire" on HBO), actor Johnny Alonso (roles in "Dawson's Creek," "One Tree Hill,") and Dick Van Dyke's grandson, Shane Van Dyke, who will be playing Jessie's film professor. The cast also features Sabrina Taylor-Smith, Zoe Sloane, Megan Rippey and Tiffany Ariany.
Series creator, writer, and executive producer, Elena Moscatt, and her producing partners, Brook Yeaton, Wade Tyree, and Stacie J. Gentzler believe that New Media and online entertainment are taking over the web, and will soon become one with the television. "And KoldCast TV is the place to be if you're an up-and-coming web series. Among other benefits afforded us, KoldCast brings an immediate audience and provides us with a head start in this new world of new media," they say.
http://www.koldcast.tv/video/life_after_lisa_teaser
And free-spirited "Galavanting" joins KoldCast TV's newest micro-network, Travel and Lifestyles.
"Galavanting" is a new travel series hosted by co-creator Kim Mance and her posse of galavanting gals. These free-spirited women travel around the world seeking adventure off the beaten path. Mance, Katy Quissell, Maren Hogan and Courtney McGann show those bitten by the travel bug how to get the most out of their travel budget, passport and life. As the ladies experience each new destination in a new (and fun) light, they share their tips, tricks, secrets and favorite spots with "Galavanting" addicts around the globe.
"We want to show people there is more to traversing the globe than spending oodles of money and getting suckered into tourist traps," says veteran traveler Mance, who also hosts the series-related Travel 101 episodes.
New "Galavanting" Travel 101 and Destination Guides episodes air each month and highlight destinations like New York City, Puerto Rico, France, Belgium, Costa Rica, Morocco, Egypt, Jordan, Japan, China and Ethiopia.
Why KoldCast TV? Mance says, "Just take a look!" http://www.koldcast.tv/video/nyc_a_budget_weekend
"Soon," Samuels says, "you will be able to laugh or cry, and enjoy whatever your entertainment choice may be, whether you're mobile and on your way to China or sitting in your family room. We've got much more in the pipeline, thanks to all of our uniquely talented and creative partners."
About KoldCast TV
KoldCast TV, launched in March 2008, is a Broadband Television Network delivering entertainment programming, on-demand, to a global audience, across a wide demographic, via the Internet. Entertaining video content, both short- and long-form (coming shortly), is globally streamed in full-screen high-definition and standard definition beauty via KoldCast's own line of Advanced Media Players. Original web series, music, comedy, sports and lifestyles programming create the nucleus of the KoldCast TV Network. KoldCast is recognized by its Content Partners for its value-added and personal approach to partner relationships, and for its commitment to the marketing, promotion and organized discoverability of shows selected for broadcast on its Network. For more information, visit http://www.KoldCast.TV.
Media Contact
Gregory L. Samuels, VP, Content Management
MediaInquiries(at)KoldCast(dot)TV
http://www.KoldCast.TV
# # #