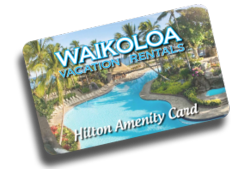 We feel feel the 5 star amenities at Hilton Waikoloa Village compliment the luxurious villas at Kolea well.
Waikoloa, Hawaii (PRWEB) November 02, 2012
Waikoloa Vacation Rentals is proud to announce a brand new partnership with the Hilton Waikoloa Village. Through effort, determination and great care, hotel amenities are now available to guests' of Waikoloa Vacation Rentals staying at Kolea. This newly formed relationship will offer more comprehensive amenities and a greater overall Big Island experience for guests' of Waikoloa Vacation Rentals staying at Kolea at the Waikoloa Beach Resort.
Any guest choosing from our large selection of villas at Kolea will have complimentary access to the lush tropical pools, lazy river and saltwater lagoon at the Hilton Waikoloa Village.
Typically the same amenity, when purchased through the Hilton Waikoloa Village, costs $160 per day for a family of four. Though that is a great value for such an occasion, this offer allows vacation rentals guests the ability to stay in a fully functioning villa and enjoy the amenities of a sixty two acre world class oceanfront property, all at the same time.
The Hilton Waikoloa Village amenity pass for Kolea guests, exclusive to Waikoloa Vacation Rentals, will offer a very special and unique experience that no one outside the current Hilton family has to offer. This fantastic amenity is available to guests' of Waikoloa Vacation Rentals staying at Kolea for their entire stay and may be used as often as guests would like during that time period for up to six people per day. Fitness center discounts, complimentary parking, and Hilton Waikoloa Village towel service are included as well.
The Hilton Waikoloa Village also offers other great amenities that guests' of Waikoloa Vacation Rentals will find convenient and unforgettable during their fantastic Big Island vacation. With options such as tennis, spa treatments, Dolphin Quest, great restaurants, Club Keiki (children's programs) and more, memorable moments will only be moments away on the Hilton Waikoloa Village property.
At Kolea, there are a wide variety of rental options available. Many of these villas offer a differential in price, size, view and location based on guests' needs. No matter what the preference, there is a villa or home perfect for any family or group just inside the front gates of Kolea at the Waikoloa Beach Resort.
Each and every villa at Kolea offers top of the line construction, African mahogany cabinetry and trim throughout, stainless steel appliances, pocket lanai doors, granite counter tops, private lanai with outdoor Viking grills, and much more. The Beach Club is also available to all guests of Kolea including the infinity pool, natural lava rock Jacuzzi, workout hale, sand bottom children's' pool with waterfall, shaded seating areas and more. With direct beach access to A'Bay and the beach, Kolea sets the standard for luxury at the Waikoloa Beach Resort. These options, combined with the Hilton Waikoloa Amenity Pass, are certain to create memorable moments for any family while visiting the Big Island of Hawaii.
Waikoloa Vacation Rentals welcomes the opportunity to host any family vacation and has the ability to accommodate groups of any size with their large assortment of villas at Kolea. Come experience the serenity of Kolea in your private villa at the Waikoloa Beach Resort firsthand with newly added amenities exclusive to our family owned luxury vacation rental company on the Kohala Coast.