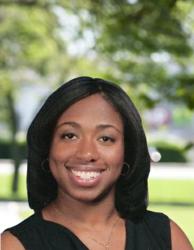 Woodcliff Lake, NJ (PRWEB) October 17, 2012
Kolinsky Wealth Management, headquartered in Woodcliff Lake, recently announced that it has named Kanika Brooks as Director of Retirement Plan Services. Ms. Brooks, who currently resides in New York City, has worked in the retirement plan business for years.
As Director of Retirement Plan Services, Kanika manages clients' 401(k), defined benefit, and defined contribution plans. She also handles employee enrollment meetings; retirement plan reviews and ensures plan compliance.
Previous to her hire at Kolinsky Wealth Management, Ms. Brooks was a Financial Planner at Ernst & Young and then a Pension Consultant at Madison Pension Services, Inc.
"Strengthening our Retirement Plan division is a key element of our strategy for growth and investing," said Steve Kolinsky, Managing Member and Founder of Kolinsky Wealth Management. "With her strong credentials, leadership capabilities and extensive experience in this field, Kanika Brooks is an excellent addition to our team."
Kanika graduated with a B.A. from Columbia University in the City of New York. She is also a volunteer Big Sister with Big Brothers and Big Sisters of New York City and is on the board of directors for the Juanita James Memorial Scholarship Foundation.
Kolinsky Wealth Management, LLC is a full-service wealth management firm serving high net worth individuals and business owners since 1982. We provide a comprehensive range of solutions designed to meet your financial goals.
Kolinsky Wealth Management focuses on relationships, not products. Only after we have a full understanding of your financial picture do we begin to construct a customized solution that suits your unique needs. We succeed by developing trusting relationships with our clients—working closely with attorneys, accountants and other professionals to create personalized wealth management strategies tailored just for you.
The clients we serve are a remarkable and diverse group. They range from successful entrepreneurs and small business owners to high net worth families and corporate CEOs, all with significant resources to nurture, grow and protect. No matter where you fit into this spectrum, you can be sure that our commitment remains to serve every client as a unique individual with a unique plan to help you meet your financial goals.