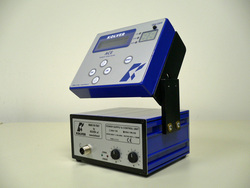 the idea behind the ACE was to develop a solution that would work across the entire Kolver product line and other vendors' tools that customers may already have in production
Westford, MA (Vocus) February 25, 2010
KolverUSA is pleased to announce the addition of the ACE Screw Counter to our product line. The ACE Screw Counter improves production yields, product quality, and product reliability, by ensuring that every assembly has been subjected to a quality control review process right on the assembly line.
The ACE Screw Counter is a process control system that monitors the fastening assembly process. It tracks, in real time, the fastening of each screw in an assembly, and then notifies the result to the operator. It keeps a summary of correct and incorrect completed assemblies throughout the production day. A key feature of the ACE screw counter is that it can be used with any screwdriver with a remote enable and disable function.
The ACE is easily programmed with user interface screens through the keypad. Walk through a few simple steps to input the parameters for total number of fasteners required in a completed assembly and the fastening process can begin. The unit provides the operator with audible and visual indications that the assembly has been completed without error and it is safe to move on to the next process step or if it has been rejected.
Jim Chase, President of KolverUSA, explains that, "the idea behind the ACE was to develop a solution that would work across the entire Kolver product line and other vendors' tools that customers may already have in production".
This unit is very "smart" and contains many unique features. ACE Screw Counter has up to nine independent programs and can count up to ninety-nine screws per program. Sequencing up to four programs at a time is another advantage the Screw Counter has to offer. The operator can program the statistics to show on the front screen. Common statistics would show how many correct screws have been completed, wrong screws, cycles done, sequences done, etc. The ACE Screw Counter can be used as a stand alone or as an attachment to the controllers with single torque settings such as the EDU1FR/SG, EDU1AE and the EDU1BR/SG. Jim Chase states "we are very excited to be able to provide this type of solution to our customers." This will be a step in the right direction.
For more information on the ACE Screw Counter, please contact KolverUSA or your local sales representative.
About Kolver USA:
KolverUSA is a Joint Venture between Blackstone Global, Inc of Westford, MA and Kolver S.r.l. of Thiene, Italy. Kolver USA has combined the Kolver product line with other products from around the world and added innovative solutions to provide the most complete, cost-effective, and well-regarded products in the industry. For more information, visit http://www.kolverusa.com, or contact the company at 1 Park Drive, Unit 9, Westford, MA 01886 USA; Tel. (978) 692-5166; visit the web site for other offices, dealers, and representatives in the Americas.
###