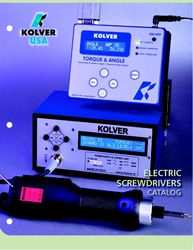 most exciting are our new product offering, which greatly expand our product line
Westford, MA (Vocus) June 9, 2010
KolverUSA is proud to release their brand new 2010 catalog. The goal is to offer their customers a complete line of torque control products and other ergonomic assembly tools, while providing world-class service and support. This catalog is very simple to follow with the page display of drivers on the left and the compatible control units on the right.
In response to many requests, on the opening two pages we are offering two charts; first chart shows recommended torque values for screws of various sizes and materials. The second chart shows the torque ranges of all our electric screwdrivers, and in the PLUTO Series, ranges are shown for both hard and soft joint applications. Notice the color-coding of this chart, as those colors are kept throughout the catalog in out different tool categories.
Curt Logee, VP of Sales, declares that , "most exciting are our new product offering, which greatly expand our product line". As you can see from the new cover, the PLUTO Torque and Angle System is the first product to display both angle and a torque number. This information can also be downloaded to a printer or host computer for full data storage, including date, time, tool serial number, and total number of screws assembled.
The new ACE unit replaces the old Inspector, and gives the added feature of counting screws in up to four sequence programs. All screw rundowns are recorded as either OK, or NOK, as well as the end of a program, and complete statistics on total number of screws cycled, cycles completed, and sequences completed.
The new TLS Arm System is a 20 Nm rated Telescoping Arm with encoders and sensors that allow "intelligent" positioning of screws for error proof assembly. Up to 3 programmed assembly patterns are allowed, with up to 93 screw positions per assembly.
KolverUSA has also greatly expanded their Torque Tester product line, including the new Mini K Series and Testers with External Transducers. Also included in this catalog are several of the most popular lower torque SmartMotion Torque Arm Series. Please see the SmartMotion catalog for in depth information on our torque arms.
KolverUSA is very proud of this new catalog. This catalog features a completely restructured and redefined approach to the way products are showcased. Please feel free to contact KolverUSA or your local sales representative for more information.
About Kolver USA:
KolverUSA is a Joint Venture between Blackstone Global, Inc of Westford, MA and Kolver S.r.l. of Thiene, Italy. Kolver USA has combined the Kolver product line with other products from around the world and added innovative solutions to provide the most complete, cost-effective, and well-regarded products in the industry. For more information, visit http://www.kolverusa.com, or contact the company at 1 Park Drive, Unit 9, Westford, MA 01886 USA; Tel. (978) 692-5166; visit the web site for other offices, dealers, and representatives in the Americas.
###