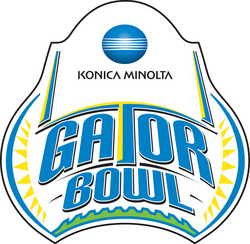 Intriguing BCS matchups add sizzle to uninspiring college bowl season
Ramsey, NJ and Jacksonville, FL (Vocus) December 31, 2009
The New Year's Day Konica Minolta Gator Bowl match up of the West Virginia Mountaineers and Florida State Seminoles has gained the nation's attention as one of the must-watch games this college bowl season.
Within two hours of announcing the team selections of West Virginia and Florida State for the 2010 Konica Minolta Gator Bowl, tickets for the 77,000-plus seats at Jacksonville Municipal Stadium were sold out. To accommodate the high ticket-demand for coaching legend Bobby Bowden's last game, Konica Minolta Gator Bowl organizers announced plans to add 6,000 temporary bleachers that will bring attendance up to approximately 83,500 on game day, with discussions underway to determine how even more people might be accommodated. The only other time in the history of the Gator Bowl Classic that the bleachers have been installed was for the 2004 match up between Maryland and West Virginia – a game that sold out within 10 days of team selection.
Selected as teams that will provide an interesting and ideal match up on game day, West Virginia brings a strong season finish and rabid fan base to Jacksonville. Florida State brings the historic finale of Coach Bowden going up against the team he formerly coached prior to his Florida State stint. Pre-game, in-game and post-game festivities are scheduled to honor Bowden's 34-year run at FSU and commemorate his final game, further growing the interest in an already exciting match up.
The two-day sell-out is a clear indication of the buzz being generated in this historic match-up, and as online sports sites and bloggers rank this season's bowl games, many believe the Konica Minolta Gator Bowl will meet expectations for excitement this year.
Rivals.com's Mike Huguenin rates the 2010 Konica Minolta Gator Bowl third among the nearly 34 postseason games, with only the Alabama-Texas BCS championship game and the Oregon-Ohio State Rose Bowl match-up ranked higher.
Similarly, FanSnap® has ranked the New Year's Day game as third for the most searched tickets online.
ESPN.com's Mark Schlabach ranks the Gator Bowl Classic as the sixth best match-up, a ranking higher than the perennially popular Orange Bowl, Cotton Bowl, and Holiday Bowl contests.
In his December 8th posting, "Intriguing BCS matchups add sizzle to uninspiring college bowl season," SI.com's Stewart Mandel rated the Konica Minolta Gator Bowl the seventh most compelling bowl game, commenting, "there's no denying the significance of Bobby Bowden's last game…[but] Florida native [and West Virginia star RB] Noel Devine could ruin the party."
Enhance the Game Experience on Twitter @KonicaMinoltaUS
The 65th Annual Konica Minolta Gator Bowl will be played January 1, 2010, at Jacksonville Municipal Stadium in Jacksonville, Florida. Kickoff will be at 1:00 p.m. EST and the game will be televised nationally on CBS Sports. In addition, fans can follow all the action on game day on Twitter @KonicaMinoltaUS for a play-by-play update of all the festivities and action on the field.
"In our third year as sponsor of this important collegiate match up, we have witnessed just how much excitement builds for this game each season and are seeing more interest for 2010 based on both the traditional powerhouse teams that are meeting on the field, as well as the significance of this game for Coach Bowden," said Kevin Kern, Senior Vice President, Marketing, Konica Minolta Business Solutions U.S.A., Inc. "Konica Minolta looks forward to seeing the teams' fans in Jacksonville again on New Year's Day and would like to encourage those interested in this year's game to visit KMBSsports.com to learn more about the historic matchup. We also hope that all college football fans will tune in on Twitter to get real-time updates of all the excitement taking place on game day."
About Konica Minolta
Konica Minolta Business Solutions U.S.A., Inc. is a leader in advanced imaging and networking technologies for the desktop to the print shop. For the second consecutive year, Konica Minolta was recognized as the #1 Brand for Customer Loyalty in the MFP Office Copier Market by Brand Keys. For more information, please visit CountOnKonicaMinolta.com and follow Konica Minolta on Facebook and Twitter.
About The Gator Bowl Association
The Gator Bowl Association is a 501(c) 3 not-for profit organization whose mission is to provide Northeast Florida with the very best in college athletics and related activities in order to maximize positive impact on the area's economy, national image and community pride. Its primary charitable activities are focused on education and youth in the North Florida area. For more information on the Association, please visit gatorbowl.com.
Konica Minolta Contact
James Norberto
Konica Minolta Business Solutions U.S.A., Inc.
+1 201.785.4403
Gator Bowl Association Contact
Cheri O'Neill
Gator Bowl Association
+1 904.798.1700
Konica Minolta is a trademark of Konica Minolta Holdings, Inc. All other trademarks mentioned in this document are the property of their respective owners.
###