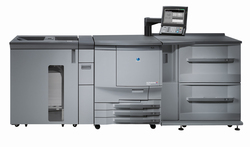 Konica Minolta recognizes not only the importance of developing such a unique color digital press like the bizhub PRO C65hc, but also in having Pantone, the world recognized and respected color expert, test and leverage its color reproducibility
Ramsey, NJ (Vocus) September 10, 2009
Konica Minolta Business Solutions U.S.A., Inc. (Konica Minolta), a leading provider of advanced imaging and networking technologies for the desktop to the print shop, today announced that Konica Minolta's award-winning bizhub PRO® C65hc with supporting technology from both CREO (IC-304 Plus Print Controller) and EFI (Fiery® IC-305 v3.0 server) has acquired PANTONE® Color approval and licensing thanks to its consistent color reproducibility conforming to that of the PANTONE MATCHING SYSTEM®.
PANTONE Color is widely acknowledged and used as standard specified color in the graphic arts and printing industries worldwide. Specific color reproducibility is verified to actual printing by recall ratios of the number of colors of PANTONE Formula Guides that become indices based on the PANTONE MATCHING SYSTEM. Featuring Konica Minolta's new High Chroma toner technology, the bizhub PRO C65hc greatly exceeds these offset print results using the industry standard delta E 2000 testing methodology. When compared with other printers in the same category the Konica Minolta bizhub PRO C65hc has one of the largest color gamuts pertaining to the PANTONE MATCHING SYSTEM coverage among all the market-available, four-color, dry-toner printing devices evaluated and licensed by Pantone.
"Konica Minolta recognizes not only the importance of developing such a unique color digital press like the bizhub PRO C65hc, but also in having Pantone, the world recognized and respected color expert, test and leverage its color reproducibility," says Andy Hatkoff, vice president of OEM and technology licensing for Pantone. "Our teams worked closely to optimize the color range from the PANTONE MATCHING SYSTEM color look-up tables with press-like or better color output, thus reassuring the industry of Konica Minolta's leading position in digital color production print."
Having this extended color reproduction range allows users to now print additional jobs not possible in the past, such as dynamic marketing collateral, brilliant corporate color and logos, high impact direct mail campaigns, and more visible point of purchase displays, to name a few. With the support of this critical certification, customers of the bizhub PRO C65hc are finally able to separate themselves from the norm in a very competitive marketplace. Now, whatever the print enterprise, bizhub PRO C65hc users can keep control of more jobs in house for faster turnaround and win more print bids thanks to the excellent color reproducibility approved and licensed by Pantone.
"Konica Minolta understands the importance of delivering the equipment and providing total solutions offering exceptional quality and eye-catching imagery that practically jumps off the page," said Kevin Kern, Vice President, Konica Minolta Business Solutions U.S.A., Inc. "With the additional support of the esteemed "Pantone-licensed" certification, print professionals can count on Konica Minolta technology to meet their customers' strict standards for both color and quality."
Click here for additional information on the bizhub PRO C65hc.
Witness firsthand the award-winning technology at Konica Minolta's booth (#6118) at PRINT 2009 (September 11 through September 16) at the McCormick Place Convention Center in Chicago, Ill. To reserve a place at the press conference, to schedule a personal booth tour and/or executive interviews, contact James Norberto at 201.825.4000 or PR@kmbs.konicaminolta.us.
About Konica Minolta
Konica Minolta Business Solutions U.S.A., Inc. is a leader in advanced imaging and networking technologies for the desktop to the print shop. For the second consecutive year, Konica Minolta was recognized as the #1 Brand for Customer Loyalty in the MFP Office Copier Market by Brand Keys. For more information, please visit http://www.CountOnKonicaMinolta.com.
About Pantone
Pantone LLC, a wholly owned subsidiary of X-Rite, Incorporated, has been the world's color authority for more than 45 years, providing design professionals with products and services for the colorful exploration and expression of creativity. Always a source for color inspiration, Pantone also offers designer-inspired products and services for consumers. More information is available at http://www.pantone.com.
About X-Rite
X-Rite, Incorporated, is the global leader in color science and technology. The company, which now includes color industry leader Pantone, develops, manufactures, markets and supports innovative color solutions through measurement systems, software, color standards and services. X-Rite's expertise in inspiring, selecting, measuring, formulating, communicating and matching color helps users get color right the first time and every time, which translates to better quality and reduced costs. X-Rite serves a range of industries, including printing, packaging, photography, graphic design, video, automotive, paints, plastics, textiles, dental and medical. For further information, please visit http://www.xrite.com.
Konica Minolta Contact
James Norberto
Konica Minolta Business Solutions U.S.A., Inc.
+1 201.825.4000
© 2009. All rights reserved. Konica Minolta is a trademark of Konica Minolta Holdings, Inc. bizhub PRO and Simitri are registered trademarks of Konica Minolta Business Technologies, Inc. PANTONE® and other Pantone trademarks are the property of Pantone LLC. All other trademarks mentioned in this document are the property of their respective owners.
###