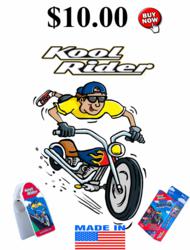 "Making it KOOL for kids to be healthy!"
- Co-Founder Howard McClurd
Charlotte, NC (PRWEB) March 17, 2012
For years, kids have been attempted to make their bikes sound like motorcycles. But after tons of broken baseball cards, clothes pins and little sound, the feat has never been fully accomplished. Until now. The Kool Rider is the newest bicycle toy creating a solution to curb obesity in children and give any fun-loving child the possibility of making their bike sound like a motorcycle.
Invented by Troy Spencer and Howard McClurd, the Kool Rider is leading a movement to keep children healthy and active through an outlet that has always been good old-fashioned fun...riding a bike.
Co-founder, Troy Spencer states, "If we give kids a fun reason to stay active, they will. The Kool Rider is not only the greatest bicycle accessory ever invented for kids, it makes it kool to be healthy!"
The Kool Rider is a custom produced accessory, with a strategically engineered material by Dupont that attaches to most standard bicycles. They are built to be supremely sturdy, and give a child's bicycle a custom, organic motorcycle sound. Currently selling for $10.
The Kool Rider is an American company for the promotion of activity in children. Fits most standard bicycles. For more information visit the facebook or visit the Kool Rider website.