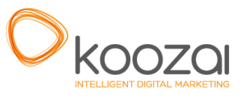 Southampton, Hampshire (PRWEB UK) 19 September 2012
It seems the nominations are coming thick and fast for leading Digital Marketing agency, Koozai. Just a few months after picking up the Best use of Search in Finance industry at the 2012 European Search Awards, receiving further nominations at the 2012 Fresh Digital Awards, they are on the shortlist at a major industry award ceremony once again. This time for the Best Business Blog and the Best Large Agency at the 2012 UK Social Media Communication Awards.
The Best Business Blog recognises the efforts of Koozai to provide high quality industry information both on their blog and for Koozai TV, a video blog offering in-depth analysis into industry relevant topics. What originally started as small posts reflecting the latest updates and news has now become a platform for top quality industry insights, opinions and updates, both in the written and video form.
Managing Director of Koozai, Ben Norman, spoke of his pride at receiving a nomination in this category, "It's an honour to be nominated for Best Business Blog. Being recognised for this award is a testament to the hard work from all of the guys that contribute to the blog. A year ago we made a conscious decision to step-up our investment in the posts we create, something that can be seen in the growth of our readership. As part of this renewed focus, we started adding video posts to the blog in June 2011, and with the launch of our new site, we created Koozai TV, a central channel solely dedicated to our video posts. This has been well received, and something I have been keen to invest in."
The nomination for Best Large Agency recognises Koozai's growth as well as their commitment to their employees and clients. Within just 5 years Koozai's revenue has increased by a staggering 1173%. In addition, they boast a client retention rate of 96% for the last 6 years, as well as staff retention rate of 95% in 2011.
Mr. Norman feels that such retention and growth is made possible thanks to Koozai's commitment to its staff and clients. "We are absolutely delighted to be nominated for Best Large Agency, something that would not be possible if it was not for the hard-work of the entire team. We like to invest in our staff, who then pass on the benefits to our clients through top quality work. Only then can we secure more business and continue to grow our service offering. It all starts with my staff, and for that I am very proud."
The ceremony takes place on the 18th October at the Radisson Blu Edwardian Hotel in Manchester.
About Koozai:
Founded in 2006 by Ben Norman, leading UK Digital Marketing Agency, Koozai, offer a full range of professional digital marketing services for a diverse and expanding customer base. Specialising in Search Engine Marketing (SEO), Pay per Click Management (PPC), Social Media and Brand services, the UK based firm are able to provide complete solutions for clients from all industries and companies of any size.