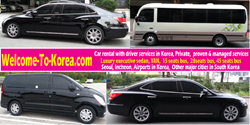 "Proven and Managed car rental with driver service in Korea."
Seoul, Korea (PRWEB) November 25, 2014
To better accommodate their clients and provide ground transportation to a larger area, Welcome-To-Korea.com recently expanded their services in the South Korea car rental market. The three-part expansion not only increased the company's fleet of executive vehicles, but it extended the reach of the area they cover.
Within the last month, 15 executive sedans, 10 vans, 10 mini buses, and 10 full-sized buses were added to the Welcome-To-Korea.com vehicle fleet. Each received an extensive hardware inspection and maintains a clean exterior and interior as every vehicle is cleaned after each day of use with a driver or customer rental.
Travelers may choose from a variety of different car rental models with driver services:
Sedan – highest luxury level for executive VIPs
Van rental – luxury utility vehicles for transportation
Mini Bus rental – transportation for 6 to 12 people, with fewer than 10 bags
Bus rental – features 45 standard seats
Luxury Bus – features 28 wider seats with wide leg space between seats
In addition to the new vehicles, Welcome-To-Korea.com also expanded into larger areas by partnering with several other local Seoul car rental companies. As a result their service coverage increased to include all of Seoul and Incheon, as well as the following South Korean provinces: Daejeon, Gyeonggi, Gangwon, Chungbuk, Chungnam, Gyeongbuk, Gyeongnam, Jeonbuk, and Jeonnam.
With the increased service coverage, travelers will now be able to book a car rental with driver to tour many popular tourist destinations, such as Nami Island; Mountain Seoraksan, known as Mt. Seorak; Sokcho Beach; and Everland, a theme park in Yongin.
Completing Welcome-To-Korea.com's recent expansion is their new office located in the Incheon airport business center, which just recently opened to provide more timely service for travelers. With the new office, a car rental in Korea can now be arranged for any of the following major airports – Incheon Airport (known as Seoul Airport), Gimpo Airport, Gimhae Airport (known as Busan Airport), Daegu Airport, Gwangju Airport, Ulsan Airport, and Yangyang Airport.
During the winter season, transportation between airports in Incheon and local ski resorts is a popular service. Travelers can rent a car or hire a driver to and from Pyeongchang, where the 2018 Winter Olympics will be held; Alpensia Ski Resort; High 1 Ski Resort; Yongpyeong Ski Resort; and several ski destinations near Seoul, Gyeonggi, and Gangwon.
To make ground transportation more affordable this winter, Welcome-To-Korea.com will offer promotional Korean tour rental rates for foreign tourists visiting Korea during the 2014 year-end holiday season and the New Year 2015 celebration period.
Welcome-To-Korea.com strives to deliver:

100% safety – their #1 priority
A customer service satisfaction level over 98%
On-time dispatch
On-time pick up at the home, office or hotel
Professional and educated drivers
Efficient routes for on-time arrival
100% return for lost and found vehicles
No hidden charges – the pre-negotiated price is the price you pay
Pre-scheduling on all rentals or services
About the Company:
Welcome-To-Korea.com aims to provide safe, clean and comfortable ground transportation throughout South Korea. Prior to dispatch, the company confirms that everything is fine with each vehicle and driver before transportation is sent to pick up the valuable client. With no exceptions, each vehicle receives an internal cross confirmation to make sure the equipment is in quality shape, and drivers are educated with a high level of kind and friendly professionalism.