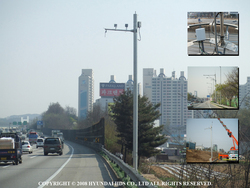 Wi-Fi mesh overcomes the bandwidth and application limitations of legacy wireless technologies
Calabasas, CA (PRWEB) June 2, 2008
Strix Systems today announced that state-run Korean Highway Corp (KHC) selected Strix Access/One® Outdoor Wireless System (OWS) as the winner for the intelligent highway infrastructure test bed, the multi-phase, multi-year nationwide highway project between Korea's two largest cities of Seoul and Pusan.
The purpose of the projects is to determine a cost effective method, in contrast to legacy cellular services, for Korea's intelligent, interactive, digital highway infrastructure to deliver multimedia applications to a wide range of end-user, vehicular and other Wi-Fi enabled devices. The system will enable the delivery of video surveillance and voice streamed to and from public safety and commuter vehicles and provide the architecture for a simplified communications infrastructure for traffic control and related systems.
The test bed is located on the Kyungbu highway at a 31 kilometer stretch between Pangyo and Osan. Key criteria for the tests included the ability to achieve continuous fluid 8 Mbps end-to-end connections for streaming video, voice over IP and multimedia applications at speeds reaching 100 km/hour.
TTA, Korean public standard organization, hosted the benchmark tests performed by WLAN highway project of Korean Highway Corp. All major wireless/Wi-Fi mesh network equipment manufacturers have been represented. Broadwave Inc., a Strix Systems distributor in Korea, working closely with its partners POSDATA and Hyundai HDS, submitted Strix Systems Access/One OWS for the evaluation
Strix OWS wireless mesh nodes were installed every 1 km with an average 3 or 4 hops from wired backhaul and mobile mesh nodes were installed in vehicles. The test results proved Strix Access/One wireless mesh network equipment yielded the highest performance over any competitor with the highest throughput, lowest latency and continuous robust performance successfully exceeding the base-line results which were not achieved by any other manufacturer. In fact, Strix Access/One OWS achieved more than double the backhaul throughput of any vendor at 18Mbps over 4 hops while the moving vehicle tests also proved Strix Systems ability to maintain an average high-density megapixel video streaming of 8~10 Mbps at not only the defined maximum test threshold of 100km/h, but exceeding 180km/h.
"We have not seen such a large area deployment of wireless mesh network with WLAN technology in the world," said Kim, Hongchol, Manager, Korean Highway Corp. "The main application of this project is to monitor real, local highway road status and to transfer it to drivers in real time through these mesh network."
The success of the test bed supports a number of applications: First, for public safety - when vehicle (A) is on the highway and captures video, another vehicle (B) far from vehicle (A) monitors the captured video data in real time for information. Second, as an example of an average person - a user watches traffic conditions, watches the news and receives travel information streamed in high-quality via broadcast TV over IP while moving in the car. Third, whenever, wherever users are working, they may perform their job via wireless access data service and sensor networks scattered near roadside are to be interconnected with various applications.
"Wi-Fi mesh overcomes the bandwidth and application limitations of legacy wireless technologies," said Henry Jung, Marketing Director, Broadwave, Inc. "Strix wireless mesh solution is impressive. We've already seen that it out-performs the competitors, but streaming megapixel video across 4 wireless hops at 180 kilometers per hour is amazing, and we know it can do more. Our experience is that Strix delivers the greatest return on investment - it's an enabler for opportunities in railway, sea ports, intelligent transportation systems and other mobility environments."
"We're excited to be working with Broadwave and our partners POSDATA and Hyundai HDS on the Korean Highway Project," said Martin Levetin, Senior Vice President, Strix Systems. "The deployment of Strix Access/One for the Korean intelligent transportation infrastructure is a significant statement to Strix's robust architecture that allows us to demonstrate our superior performance and mobility technology."
About Broadwave, Inc.
Broadwave, Inc. is the Korean distributor of Strix Systems, and network integrator in Korea who provides a wide range of Internet and network services solutions to enterprises, residential users and governments for metro-scale wireless mesh networks. The wireless mesh network leader in Korea is developing optimal application solutions for the Korean market, and is expanding its customer base to include municipal government, public safety, factories, wireless broadband operators, ITS, military, railway.
About Strix Systems, Inc.
Strix Systems is the proven worldwide leader in wireless mesh networking. Strix's Access/One products are the industry's only modular (chassis-based) mesh systems, delivering the highest throughput, lowest latency, greatest capacity and unparalleled scalability. This new generation of products provides the broadband mobility and reach to support voice, video, and data applications. Sold globally by a network of first-class distributors and integrators, Access/One solutions have been deployed in hundreds of networks worldwide, outdoor and indoor, for the service providers, metro, public safety, government, energy, transportation, hospitality, education, enterprise, and residential markets. For more information about Strix Systems, please visit http://www.strixsystems.com.
NOTE: Strix Systems and Access/One Network are trademarks or registered trademarks, in the United States and certain other countries, of Strix Systems. Additional company and product names may be trademarks or registered trademarks of the individual companies and are respectfully acknowledged.
###