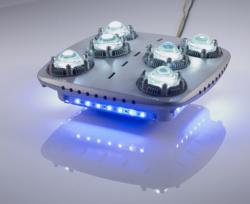 I'm rearing to go and ready to discuss possible manufacturing partnerships with these hungry innovative companies from Korea
(PRWEB) April 28, 2009
New York, NY Korea Trade Show 2009 announces, KOREANNOVATION, a showcase of South Korean products, many shown in the U.S. for the first time, from May 12-13 at Penn Plaza Pavilion, NYC. See why, in this troubled economy, more and more U.S. manufacturers and distributors are turning to Korea as a reliable source for quality new commercial, beauty, electronics, and industrial products. Because of government support given these manufacturers by the South Korea Free Trade Agreement, buying directly from these companies offers the opportunity for retailers, distributors, and middlemen to maintain recession-friendlier margins. These Korean manufacturers offer reduced sourcing and production costs while maintaining the highest levels of quality, excellence in design, and innovation.
The show is free to the public, and trade and media are welcome. Product Categories for 2009: Green Building, Beauty, Home Goods, Commercial, Personal Care & Health, Toy, Home Care, Small Appliance products.
Trade Show Admission Free -- 4 ways to register:

call to RSVP: 888-699-7531
fax: 212-229-1878
email: RSVP (at) koreatradeshowny (dot) com
Over 500 products from over 50 companies will be on display making this a unique opportunity to check out some truly innovative products, most of which have never been seen in this country, and also to witness the overall quality of the products and the eagerness of these companies to do business in The United States, offering competitive margins made even more attractive by the support provided by The South Korea Free Trade Agreement.
Some of the unique items on display include Talky Talky, an oversized anthropomorphic pen that, with special books, speaks English as the pen goes over the words; NOSK - a tiny nose filters for us urban dwellers; LED Sparkle Boards where you can write with a water marker and it shines light-bright - perfect for restaurant or store windows; Micro-fiber Travel Towels that are tiny and dry super fast; UPS Uninterrupted Power Supply - compact emergency power supply; Glow In The Dark Socks, and more.
"I'm rearing to go and ready to discuss possible manufacturing partnerships with these hungry innovative companies from Korea," said Larissa Van Duser, President of The Winthrop Group Inc. "This rough economy is the perfect time for buyers to take advantage of the positive trade relations between South Korea and the US. Korea is producing exceptional next-generation products at costs attractive to those, to be blunt, who are wishing to maintain their margins."
South Korea's new leader, President Lee Myung-bak, who has a business background, clearly sees the paramount importance of bolstering and cementing trade relations between South Korea and the US. "South Korea is ready and eager to further consolidate and build upon the traditional friendship with the United States," said Mr. Lee.
As a result of Mr. Lee's forward thinking trade vision and South Korea's Free Trade Agreement with the US, prices at the Korea Trade Show 2009 will be favorable for buyers, as government support allows for price advantages and manufacturing discounts. "Our government is deregulating, which allows for lower corporate taxes which make South Korea a nation where foreign companies can invest and work easily," said Mr. Lee.
Product Categories and Highlights:
TOYS: Talky Talky (My Friend for Language Education) from Gemkid Horizon. Ltd -- a jumbo pen that reads English aloud as the tip is put over the word in specially printed children's books.
GADGETS / SMALL APPLIANCES:
Nude Toaster from S Park -- innovative "see-through" design with clear panes of "heating glass" where bread goes in from above; toast pops out below.
See-Through Iron from S Park -- This transparent iron allows for precision ironing, showing the wrinkles through the iron. The soleplate is made of tempered glass, and heat conduction works via a network of electro-thermal wires.
Mobile USB Driver from Koryo Industrial Co., Ltd. -- Convenient for transferring date from smart phone to computer and vice versa.
PERSONAL CARE / HEALTH:
NOSK Transparent Nasal Filter from Samjoung -- Easy-to-insert comfortably fitting transparent non-toxic nasal filter from that helps block dust in the nasal cavity making breathing easier and healthier.
Unibrush, Paste-Spreading Toothbrush from ApoL Inc. -- spreads toothpaste on your tooth directly during brushing - healthier and more sanitary.
HOME CARE:
tWincle, The Dual-Working Window Cleaner from Apol Inc. -- automatically cleans the outside of window when cleaning the inside using magnetic power. It contains four 3.800 gauss magnets on both the front and back sides of the cleaner (total of eight magnets), it automatically cleans the outside of window when moving inside after attaching the two sides through the glass.
COMMERCIAL:
Sparkle Board from J&P - Using a water marker, you can write on the LED board, creating instant custom neon signs, perfect for restaurants or bars.
GREEN BUILDING:
Vacuum Tube Shower Head from Korea Water Management, Inc -- Saves water without diminishing shower pressure using unique vacuum tube technology, creating vacuum without power.
Among the diverse array of additional products on display include exclusive skincare products and cosmetics, essential bath accessories, holistic medical and dental devices, portable massagers, RFID tags, LED lamps, vacuum sealers, microfiber towels, Korean magma jewelry and more.
The Korean International Trade Association partnered with five other Korean government agencies introduce and promote in the West the latest advances in Korean high-tech products and services:

KITA (Korea International Trade Association): a trade promotion agency representing Korea, offering a collection of direct services such as business planning and trade consulting. KITA also aids trading companies in resolving obstacles by informing government authorities. KITA improves public awareness of trade in order to advance Korea's commercial potential with the global community. KITA has been the powerhouse behind Korea's international trade by assembling the essential communications through the preparation of trade experts, establishing cyber trade infrastructure, hosting international special exhibitions, and implementing new trade strategies. For More information, please visit KITA.org.
KOTRA (Korea Trade Promotion Corporation): english.kotra.or.kr
SMBA (Small and Medium Business Administration): smba.go.kr/main/english/index.jsp
SBC (Small Business Corporation): sbc.or.kr/eng
KBIZ (Korea Federation of Small and Medium Business): kfsb.or.kr/english/
OKTA (World Federation of Overseas Korean Traders Associations): oktajr.com
For complete details on Korea Trade Show NY 2009, including the most up-to-date exhibitor list, product info & photos, and to register, please visit us online at koreatradeshowny.com
Trade Show Admission Free -- 4 ways to register:

call to RSVP: 888-699-7531
fax: 212-229-1878
email: RSVP (at) koreatradeshowny (dot) com
Facebook Event Invite = http://tinyurl.com/koreannovation
May 12-13, 2009, 10am-6pm
Penn Plaza Pavilion, NYC
401 7th Avenue at 33rd Street
###