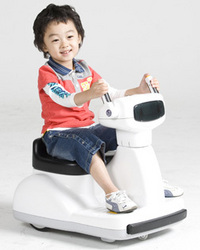 Our government is making a lot of deregulations, lowering corporate taxes to make a nation where foreign companies can invest and work easily
New York, NY (PRWEB) April 28, 2008
Korea Trade Show 2008 announces, KOREANNOVATION, a showcase of exclusive South Korean products, from May 14th to 15th at Penn Plaza Pavilion, NYC. Featured are a multitude of innovative new products - a broad dazzling inventory that encompasses everything from consumer electronics, to computerized pet-houses and kiddie robot-riders to unique-yet-practical personal care products including multi-function techno-bidet's and smell-reducing socks. The SHOW is FREE to the public, and trade and media are welcome.
Trade Show Admission Free -- 4 ways to register:
•Register Free Online
•call to RSVP: 888-699-7531 or fax 212 229-1878
"Ranked second in world patent productivity, South Korea is leading the world in the kind of research and development that will shape our future," says Mira Zivkovich , president of MZI Global Marketing, the consulting firm for the Korea International Trade Association. "South Korea is also a producer of the most advanced semiconductor, LCD panel, and mobile phones technology available, and now we are seeing that exciting, cutting-edge technology applied to the consumer world, too."
For complete details on Korea Trade Show NY 2008, including the most up-to-date exhibitor list, please visit us online at Korea Trade Show NY.
More than 500 products of over 50 companies will be showcased making this an exciting opportunity to have a hands-on preview of gizmos, gadgets, home appliances, healthcare products. Many of these products represent major trends and the future of consumer technology in terms of design and future-forward functionality.
"I'm extremely pleased to have the opportunity to discuss possible manufacturing partnerships with next-generation companies from Korea," said Larissa Van Duser, President of The Winthrop Group Inc. "This is the perfect time for buyers to take advantage of the positive trade relations between South Korea and the US, especially as Korea is producing some of the most extraordinary, innovative products, in categories from consumer electronics to health and fitness to personal care."
For years, South Korea has been on the rise towards becoming a global leader in the production of innovative, high-tech consumer products. Now, at the Korea Trade Show NY 2008, buyers can experience firsthand a wide array of such emerging products, such as ultrasonic surface cleaners, wearable speakers, and super-definition digital screens.
In light of the business background of South Korea's new leader, President Lee Myung-bak, the country has been boosting efforts to improve trade relations between South Korea and the US. Mr. Lee visited the US in mid-April to discuss various issues with American officials, highlighting trade relations between the two nations.
"South Korea will further consolidate the traditional friendship with the United States," said Mr. Lee before he arrived in New York.
As a result of Mr. Lee's trade vision and South Korea's Free Trade Agreement with the US, prices at the Korea Trade Show 2008 will be favorable for buyers, as government support allows for price advantages and manufacturing discounts. "Our government is making a lot of deregulations, lowering corporate taxes to make a nation where foreign companies can invest and work easily," said Mr. Lee in New York.
The Korea Trade Show NY 2008 is an opportunity to preview the most innovative and state-of-the-art products in the market today, as well as network with a variety of competitive government supported suppliers. It is the premier sourcing and direct buying show for a multitude of up-and-coming products from Korea.
Product Categories and Highlights Check out some products in action on YouTube:

Consumer Electronics- Mocomtech will introduce high-tech digital screens, including its Wide Super Gain Screen Systems and Super Definition Screens, ensuring optimal picture sharpness and color accuracy while producing crystal- clear images. Its markets are for commercial Wide- Cinemasystem Screens, Multi-Media Classroom Screens as well as for home entertainment.
Relaxation and Comfort - AZA Extremes will showcase "Sound Walk"- mp3 audio-wear. These wearable speakers are integrated into specialized vests, backpacks and jackets. Sound Walk enables you to go anywhere listening to your favorite tunes: while you work out, enjoy hiking, biking, or extreme action sporting. Vests slip invisibly under apparel. Or try a rugged, futuristic look with the jackets and sporty backpacks.
Pet Care- Pamper your pet in Autoelex's Toppel Luxury Pet House. Set the climate to ensure your pet's maximum comfort. Purify and deodorize the air with the antibiotic air filter system, and dim the lights to accommodate the ultimate environment for your pet's lounging time. Resilient, yet unassuming, this luxurious abode can remain as a lasting part of your furnishings, or be hidden in seconds.
Health and Fitness - Genesen Inc. will introduce the Genesen Acu-Touch Pointer, a natural alternative used for pain management. Genesen Acu-Touch Pointer combines magnetism, infrared rays and naturally occurring ions to create a non-invasive acupuncture treatment. It gently and naturally treats signs of carpal tunnel syndrome, diabetes, asthma and sinusitis. The Pointer can also be used for cosmetic purposes such as revitalizing skin tissue and improve circulation.
Arts/Crafts-Create a legacy with the Metalphoto by Wooyoun Master of Science Co., Ltd. The Nano- chemical etching technique engraves any photograph on a brass or stainless steel plate. This technique enables you to preserve special memories by documenting a piece of your very own history. Each engraved plate withstands the effects of natural elements, abrasion and chemical change for over 1,000 years.
Personal Care - Dami Trading Co., Ltd. will display antibacterial odor control and thermal socks. These specially designed socks trap air to keep you warm while also removing excess moisture from the skin to keep your feet dry and odor-free.
Construction/Industrial-Eco-friendly Green Tek recycles rubber from old cars to create long lasting cement for driveways and streets. Now you can live well and protect the earth with this product aimed to use renewable energy in industrial and home construction.
Kitchen/Home Appliances - Pollex Technology Co., Ltd. will introduce its ultrasonic cleaner that disinfects surfaces that breed germs such as kitchen countertops and bathroom sinks. Contaminants around your home are eliminated.
Other products highlighted in the exhibit include digital curling irons, exclusive skincare products and cosmetics, essential bath accessories, holistic medical and dental devices, portable massagers, body composition analyzers, full-body exercisers and treadmills, pelvic correction devices, valve amplifiers and speakers, and LCD HDTV televisions and monitors.
Six Korean government agencies are partnering with media sponsors NEXCO and the Manhattan Chamber of Commerce, to introduce and promote in the West the latest advances in Korean high-tech products and services:
•KITA (Korea International Trade Association): a trade promotion agency representing Korea, offering a collection of direct services such as business planning and trade consulting. KITA also aids trading companies in resolving obstacles by informing government authorities. KITA improves public awareness of trade in order to advance Korea's commercial potential with the global community. KITA has been the powerhouse behind Korea's international trade by assembling the essential communications through the preparation of trade experts, establishing cyber trade infrastructure, hosting international special exhibitions, and implementing new trade strategies. For More information, please visit Korea International Trade Association
•KOTRA (Korea Trade Promotion Corporation): a national trade promotion organization that has successfully facilitated Korea's instant export-led economic development through diverse trade promotion endeavors such as overseas market surveys and business matchmaking. KOTRA manages Invest KOREA, the national investment promotion agency. KOTRA maintains its foreign investors by offering more commanding incentives and an extended variety of services. For More Information, please visit Korea Trade Promotion Corporation
•SMBA (Small and Medium Business Administration): fosters strong innovative small and medium enterprises (SMEs) that can usher in the era of $20,000 per capital gross domestic product (GDP). SMBA enables an easy set up and market exit, promotes creative innovation capability, expands growth basis that promotes competition, and lessens divergences through mutual growth in the enterprises. For more, see Small and Medium Business Administration
•SBC (Small Business Corporation): a non-profit government agency since 1979. SBC has been committed to fostering and promoting Korean small and medium sized businesses. SBC understands that excellence comes in different sizes and offers assistance to Korean businesses in entering the U.S. market. With a regional headquarters office located in New Jersey, it provides a variety of support services such as training, marketing, and financial assistance in order to increase the global competitiveness of Korean businesses. For more information, please visit Small Business Corporation
•KBIZ (Korea Federation of Small and Medium Business): established in 1962 to develop procedures that can help Small and Medium Enterprises (SMEs) to meet the challenges of the dynamic management environment, while advancing their competitive strength. By offering diverse services, KBIZ helps the SMEs to consolidate their stance as the core of the domestic economy. For more information, please visit Korea Federation of Small and Medium Business
•OKTA (World Federation of Overseas Korean Traders Associations): promotes mutual prosperity between Korean traders in the U.S. and Japan with Korea and its trading partners, enhances Korea's economic profile, and expands exchanges from Korean traders within the US and Japan to Korean traders globally. For more information see World Federation of Overseas Korean Traders Associations.
About MZI Global Marketing:
MZI Global Marketing is an award-winning, full-service integrated marketing and consulting firm that creates and executes effective market entry strategies for its domestic and global clients across a wide spectrum of industries.
Under the leadership of president and CEO Mira Zivkovich, recipient of the 2007 Ellis Island Medal of Honor, MZI Global Marketing is committed to guiding its clients from initial strategy to well executed solutions, helping them surmount any challenge and achieve their every business goal. For more information, please visit mziglobal.com.
###