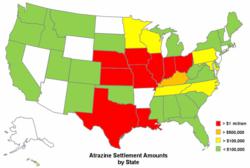 "Our goal was to develop a compensation blueprint giving those communities with the highest levels of contamination, over the longest period of time, the most money."
Benton, Illinois (PRWEB) October 25, 2012
On October 23, 2012, one day after conducting an extensive fairness hearing, the United States District Court for the Southern District of Illinois (City of Greenville v. Syngenta Crop Protection, Inc., Case No.: 3:10-cv-00188-JPG-PMF) entered an order granting final approval of a $105 million class-action settlement that will compensate Community Water Systems throughout the United States for the cost of removing atrazine from drinking water. The settlement concludes litigation between Community Water Systems, Syngenta Crop Protection, LLC and Syngenta AG that has been pending for more than eight years.
Atrazine is a widely-used weed killer that is applied to crops throughout the United States. The vast majority of atrazine is used in the Midwest to control weeds on corn and grain sorghum. The Court's Final Order approves claims to the settlement proceeds that were filed by 1,085 Community Water Systems that together provide drinking water to almost 37 million people in the United States. Claims will be paid according to a court-approved formula that takes into account the amount and frequency of atrazine contamination and size of each water system. "Our goal was to develop a compensation formula that gives those communities with the worst atrazine contamination, over the longest period of time, the most money," said Stephen M. Tillery, senior partner at the Korein Tillery law firm in St. Louis. Together with Scott Summy of the Dallas, Texas firm of Baron & Budd, Tillery filed the lawsuits on behalf of about 50 Community Water Systems in the Midwest, negotiated the settlement, and was appointed to represent the members of the settlement class.
Several representatives of Community Water Systems appeared at the Court's hearing to support the settlement. Bob Perica, attorney for the Holiday Shores Sanitary District, which is located about 40 miles from St. Louis and provides water to nearly 3,000 people, said "What this means to our community and the hundreds of other communities across the country cannot be overstated. The Korein Tillery firm made this possible through their tireless effort and dedication. The caliber of their representation is beyond reproach."
Thomas Skelly, the Water Division Director for Springfield, Illinois, who also spoke at the hearing, described the historical costs of Atrazine abatement in the Lake Springfield Watershed, and expressed his approval of the settlement on behalf of their 52,000 water service customers. Scott J. Sullivan, representing the Missouri community water systems of Smithville, Clay County PWSD #9 and Weatherby Lake, told the court that each of these water providers was extremely thankful to be part of the settlement. "I travelled here today from western Missouri to express our unqualified support for this settlement. The funds made available will have a terrific impact on these communities at a time when they are needed most. We can't thank these law firms enough for making this happen."
In approving the settlement, United States District Judge J. Phil Gilbert noted that the case had been extremely hard-fought and that in the course of the litigation, the parties collected, reviewed, and produced more than 10 million pages of discovery. The Court found "the settlement was reached after arm's-length negotiations in a matter where the plaintiffs faced a number of very serious obstacles to their claims – any one of which might leave them with no recovery whatsoever." "Nevertheless, even with immense risks, Plaintiffs were able to secure a $105 million settlement fund. The amount represents approximately 76 % of the $139 million estimated by Plaintiffs' expert to be the class's maximum potential recovery for past damages. This is a substantial recovery in any litigation and is far greater than the percentages found adequate by numerous other courts."
Community Water Systems will receive substantial payments under the formula approved by the Court:
Dollar Amount - Number of Claims
$5,000 to $10,000 - 545
$10,000.01 to $25,000 - 165
$25,000.01 to $50,000 - 105
$50,000.01 to $100,000 - 99
$100,000.01 to $250,000 - 116
$250,000.01 to $500,000 - 38
$500,000.01 to $1,000,000 - 14
Above $1,000,000 - 3
Total Claims 1,085
Payments to Community Water Systems with approved claims will be made within 90 days.
About Korein Tillery
Korein Tillery is an AV-rated, award-winning law firm with offices in St. Louis and Chicago that has won significant verdicts and settlements over the past decade in Class Action, ERISA/Pension Fund Litigation, and Environmental Litigation. The firm represents individuals and businesses in local, state, federal and international venues in complex multi-party litigation.