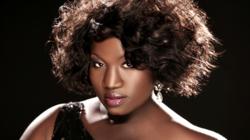 This year has been an extraordinary year for me. This collection is a true representation of the path I am on. I am very excited and ready for the future.
New York, NY (PRWEB) August 31, 2012
Some fashion industry insiders are speculating that fashion designer Korto Momolu may take a hiatus from New York Fashion Week to expand her brand globally. However, the finalist from Project Runway's fifth season is poised to unveil her best collection to date on Friday, September 7, 2012, at Helen Mills (139 West 26 Street, NY).
The Korto Momolu Spring/Summer 2013 collection is the first ready-to-wear collection for the designer. Fashion Stylist Arnold Milfort, who is producing this year's NYFW SS13 runway show says, "This collection is very refreshing. I think people are going to be surprised and inspired by what [Korto] has to show this season." Milfort was also instrumental in consulting Momolu during the design process. Capturing inspiration and comments from female focus groups was important to both Momolu and Milfort. This collection was designed with consideration of silhouettes, fabric selections and shapes for sizes 2 to12.
Momolu, who gained national recognition after participating on the fifth season of Project Runway, has presented a collection on the New York runways for the past four seasons. She is ready for this show and states, "this year has been an extraordinary year for me. This collection is a true representation of the path I am on. I am very excited and ready for the future."
Earlier this year, Korto teamed up with General Mills and ShopRite's year-round, hunger-fighting initiative, ShopRite Partners In Caring, as a celebrity judge for a T-shirt design contest, appropriately called "Knock Out Hunger." Additionally, Korto will appear on a special edition box of Cheerios that will be sold exclusively at ShopRite stores in September 2012. To further demonstrate her support in raising hunger awareness, she invited the grand prize winner of the T-shirt design contest to feature his winning design on her runway at fashion week.
Highlighted as a top 5 designer to watch by New York Magazine in 2010, and listed as "The Grio's Top 100" in 2012, Korto Momolu, a native of Liberia, West Africa, easily stands out from the rest and has captured the attention of the fashion industry elite. She has been featured in People magazine, Essence magazine, Women's Wear Daily, Soap Opera Digest, and will appear in American ELLE magazine this fall.
Another announcement to celebrate: Project Runway's 10th anniversary. One designer from each season was chosen to create an under-$350 look for Lord & Taylor. The capsule collection includes designs by season one's Jay McCarroll, favorites like Chris March and Nick Verreos, as well as Korto Momolu's $275 dollar design which will be available for purchase Friday, August 31st on http://www.lordandtaylor.com.
For more information about Korto Momolu, please visit http://www.KortoMomolu.com, or follow her on Twitter, Facebook, Pinterest and Instagram at "KortoMomolu."
#KortoMomoluNYFW
Sponsors For Korto Momolu's NYFW SS13 Show: General Mills, ShopRite, Bare Feet Shoes, CourvoisierUSA, Arik Air, Winetasting.com, Heritage Link Brands, Cole Stevens, Chic Studios NYC, Google, Mario Badescu, Kind Bar, Vita Coco and Agent 18.
General Mills, located in Minneapolis, Minn., USA, is among the world's largest food companies and has awarded over $535 million dollars since 1954 through Nourishing Lives and the General Mills Foundation to non profit organizations within our communities. To learn more about General Mills visit them at:
Bare Feet Shoes is retail and online based shoe and clothing retailer with locations throughout the East coast and mid west. You can learn more about Bare Feet Shoes at:
http://www.barefeetshoes.com
http://www.facebook.com/BareFeetShoesFB