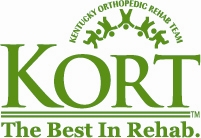 Exercise can come in any form of activity including stretching, walking, or bodyweight exercises.
Lexington, Kentucky (PRWEB) January 11, 2012
Americans are living longer and enjoying a better quality of life than ever before, however, many seniors find it difficult to maintain their once active lifestyle. In fact, some research shows that only 30% of those aged 65 or older exercise regularly. To help get Seniors moving again, KORT has developed a new program, the Active Care Program, specifically targeted at those 50 and older.
"Exercise has been shown to enhance the quality of life for all age groups, but it is essential for older adults to prevent muscle and bone mass deterioration associated with aging," said KORT physical therapist Stephen Karam, PT, DPT. "The benefits of regular exercise include enhanced muscle mass, improved cardiovascular health, increased bone density and greater independence within the household and community. Exercise may also decrease chronic pain associated with osteoarthritis and fibromyalgia, help prevent catastrophic injuries associated with falls, and even prevent the falls from occurring."
Karam says that one major barrier to exercise for older adults is fear of injury which is why working with a trained physical therapist can get you back into shape safely and effectively.
"The first step to beginning any exercise routine is to consult with your doctor to ensure that it is indeed safe to begin a new program. Your physician may outline some precautions based on your current physical condition and medication prescribed," said Karam. "Once you are ready to begin any KORT location can help get you started with a safe and appropriate exercise routine which includes endurance, flexibility and strengthening activities. Our new Active Care Program was created to address the specific needs of an older population."
Karam offers several tips to consider when beginning a new program.
Building a Better (and Safer) Exercise Routine

Consult your physician before beginning any new exercise routine.
Don't be afraid to start a new program. Consulting with a physical therapist will ensure your program will be safe and effective.
Exercise can be fun. Grab your spouse or friends and work out together!
Make sure you incorporate flexibility training into any exercise routine.
Perform simple stretches for the hip flexors, lower back, and neck/upper back. These take just a few moments, but will allow for improved flexibility and can prevent injuries.
Improved mobility, increased quality of life and more independence are just some of the benefits of a regular exercise routine.
According to Karam, the most important thing is to get moving again.
"Exercise should be a part of everyone's daily routine," says Karam. "The National Institute of Health recommends physical exercise for 30 minutes a day for at least 5 days a week. Exercise can come in any form of activity including stretching, walking, or bodyweight exercises. In fact, the best fitness program encompasses cardio, weight training and stretching or flexibility."
During January, all KORT clinics in Kentucky and Southern Indiana will help get folks moving with a complimentary exercise consultation. Call 1-800-645-KORT (5678) to schedule an appointment.
Locally managed and operated, Kentucky Orthopedic Rehab Team (KORT) is an outpatient physical and occupational therapy company that provides sports medicine to local high schools and colleges. KORT athletic trainers provide injury prevention and care, returning athletes to play as quickly and safely as possible. With more than 20 years experience in the Physical Therapy industry, KORT operates over 35 clinics throughout Kentucky and Southern Indiana, with more board-certified specialists than any other physical therapy provider in Kentucky. For more information visit http://www.kort.com.
# # #