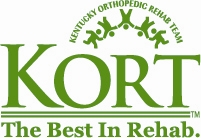 "Our students get real-world experiences which help them choose a career tract."
Louisville, Kentucky (PRWEB) May 29, 2013
Central High School senior Christopher Dinwiddie is heading to Nashville later this month to compete at the HOSA (Health Occupations Students of America) National Leadership Conference in the National Competitive Events program where he will test his knowledge and skills in sports medicine against students from all 50 states and Puerto Rico.
Dinwiddie won first place in the Kentucky HOSA state-wide competition held in Louisville in March. The 17-year-old is part of Central's Medical Magnet program focusing on sports medicine which was developed by KORT Athletic Trainer Kristen Pollock and Central Medical Magnet teacher Melissa Ballard three years ago.
According to Pollock, students are interviewed during their freshman year and if accepted into the program will spend the next three years learning about careers in sports medicine and developing skills such as injury assessment, ankle and lower extremity taping, anatomy, and evaluation, management and treatment of sports injuries.
"Our students get real-world experiences which help them choose a career tract. We provide them with a very hands-on learning environment and skills they can use in the future such as basic first aid and CPR certification," said Pollock.
Preparing to Win
Dinwiddie is no stranger to this competition. He placed third in the Kentucky state HOSA competition and participated in the national competition in 2012.
"I've been studying more on my own this year and Kristen has been helping me so I can improve my written test. I've been working on my skills, too. I was nervous through the skills competition, but it was pretty easy," said Dinwiddie.
Beyond Central
When asked why he chose the sports medicine tract, the football player and sprinter said it's his love of sports and his exposure to sports injuries both his own and those of teammates that lead him to it.
"I like sports and wanted a career where I could be around it. I've seen lots of injuries and wanted to understand more about them. Its interesting, challenging and fun," said Dinwiddie.
He says he plans to attend college and become an athletic trainer or an orthopedic surgeon.
Kentucky Orthopedic Rehab Team (KORT) has been specializing in outpatient physical and occupational therapy in Kentucky and Southern Indiana for over 25 years. Local ownership and independent operations, allow KORT clinicians to work one-on-one with patients to regain strength, increase flexibility, improve mobility, and reduce pain without drugs or surgery. Selected as a "Best Places to Work in Kentucky" for nine consecutive years, and with over 40 locations, KORT has the most board certified Orthopedic Specialists and Vestibular Rehabilitation specialists than any other provider in the region. KORT's certified athletic trainers provide sports medicine services to more than 30 high schools and colleges in Kentucky & Southern Indiana.
###