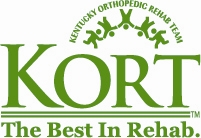 Barefoot running has demonstrated lower ground impact forces: Is it Right for You?
Lexington, Kentucky (PRWEB) June 29, 2011
The barefoot fitness revolution continues to gain speed with increasing numbers of people deciding to forgo their 'fitness' footwear for a more natural approach. This craze has now reached our area, but is barefoot running safe, and does it provide a better fitness alternative?
Dr. Chris Sharrock, KORT Physical Therapist points to our very evolution as testimony to the advantages of going shoeless.
"Proper foot development of young children is well documented to be directly linked to learning/practicing walking barefoot," said Sharrok. "Competitive weightlifters and track athletes recognized the greater force production and mechanical advantage that training barefoot provides. If fact, many experts believe the modern day running shoe is responsible for weakening the musculature of our feet and lower extremities, changing our natural walking/running pattern, and causing increased rates of overuse injuries."
Research has shown that barefoot runners receive lower ground impact forces as compared to shod runners even on hard surfaces, which means a decreased injury rate in barefoot runner. Several studies have reported that shoes can excessively limit the normal ability of the foot to roll inward, or pronate, as the foot contacts the ground. This limitation of movement leads to the inability to properly distribute forces across joint surfaces and use muscles efficiently, resulting in muscular imbalances and increased stress to the joints.
Barefoot runners have reported lower heart rates during running, better abilities to use oxygen, and lower self-reported exertion levels as compared to those running with shoes. In addition to these benefits, studies have recorded higher levels of activity in the muscles of the lower leg and foot. While research analyzing the differences between these two forms of running is still in its infancy, the benefits of barefoot running are promising, says Sharrock.
"As with any new exercise, it is always best to contact a medical professional to determine if this type of exercise is right for you," recommends Sharrock. "People with foot conditions such as bunions, plantar fasciitis, Achilles tendonitis or other issues of the foot are not good candidates for this type of training."
Tips to Get Started Properly
If you think you'd like to try barefoot running/walking, there are a few things to consider.

Get your feet checked out first to make sure barefoot running is the way to go for you. Area KORT Physical Therapy clinics will complete a complimentary assessment. Just call the location of your choice and schedule an appointment
If you are obese or have poor body composition you should start with dieting and low impact exercise then progress to the more strenuous barefoot exercises.
Give yourself time to transition. Begin by walking barefoot for a while during the day then gradually increase the amount of time you go shoeless. Listen to your body and give it time to adapt.
Nike Free and Vibram Five Fingers are two types of barefoot shoes which mimic the sensation of going shoeless while providing some coverage for your feet.
Include barefoot running or walking into your normal exercise routine and gradually build up the duration, distance, and intensity over time. To avoid injury don't increase any of these variables by more than 10% per week.
Incorporate barefoot time into your strength training routine. Everyone, especially those who only run, should perform a total body strength routine several times per week to increase performance and prevent injury.
Begin on soft surfaces such as grass and sand before progressing to nature trails or concrete. Keep time on concrete to a minimum. Be attentive to foot hazards such as nails, glass, rocks, and holes in your path.
Plan to be sore; especially in your calf and foot muscles. Always perform a light dynamic warm-up prior to running as well as more focused stretching and soft tissue work after running. Use ice as needed.
Locally managed and operated, Kentucky Orthopedic Rehab Team (KORT) is Kentucky's premier provider of outpatient physical and occupational therapy services specializing in orthopedics, sports and industrial medicine. Since 1987, KORT has provided clinical and customer service excellence to patients in KORT clinics, at employer sites, and with high school, college, and professional sports teams. With more than 20 years experience in the Physical Therapy Industry, KORT operates over 35 clinics throughout Kentucky and Southern Indiana, with more board-certified specialists than any other physical therapy provider in Kentucky. For more information visit http://www.kort.com
###