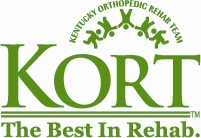 If you don't have knee pain, do yourself a favor and strengthen your derrière now
Lexington, Kentucky (PRWEB) May 31, 2012
Whether you are a competitive cyclist or just taking a spin on a Saturday afternoon, knee pain is a common complaint among riders.
"Faulty riding technique or incorrect bike fit may be the culprit, but knee pain may be less about the bike and more about your leg. Your leg's strength and flexibility, more specifically strength in the ol' derrière can significantly influence knee pain," said KORT Physical Therapist Dr. Matt Lee PT, DPT, OCS, FAAOMPT.
According to Lee, the gluteus muscles are the true powerhouses for generating speed, stability and climbing, and are also responsible for controlling abnormal knee motion and alleviating pain. Physical therapy research shows that individuals with a weak fanny commonly experience knee pain, and strengthening significantly diminishes that pain, he said.
Lee offers a simple test to assess the strength of your backside. Do the following while in front of a mirror so you can see how your body responds.

Slightly lift your left leg and balance on your right leg. If you have a strong gluteus and hip area, your beltline will not move and you will remain balanced.
Perform a one leg mini squat and watch your hips. If you experience loss of balance, see the opposite hip drop or the standing knee move toward mid-body, and then you need to improve hip and gluteus strength.
According to Lee there are many ways to strengthen the gluteus medius/minimus:

Leg Lifts : Lie on your side so your heels and ears are in line and lift your top leg (knee straight), making sure your body does not roll forward.
Walking side to side with or without a resistive band around your ankles
Perform defensive slide drills(side to side shuffles)
Other forms of exercise such as swimming, basketball, tennis, Pilates, yoga, or Zumba will also strengthen the hips
In addition, Lee recommends stretching before and after cycling. For specific stretching exercises, visit http://www.KORT.com where you can download an instructional flyer, or stop by any KORT clinic for the free flyer and ask for a demonstration.
"If you don't have knee pain, do yourself a favor and strengthen your derrière now," said Lee. "If you have experienced knee pain while cycling, contact a physical therapist for an individualized, in depth assessment of your strength, flexibility and movement. He or she can work with you to develop an individualized treatment program that will help make your spring and summer cycling seasons your best yet."
Kentucky Orthopedic Rehab Team (KORT) has been serving the communities of Kentucky and Southern Indiana for over 25 years, providing clinical excellence and customer service in outpatient physical and occupational therapy. KORT clinicians work one-on-one with patients to regain strength, increase flexibility, improve mobility, and reduce pain without drugs or surgery. Licensed athletic trainers provide sports medicine to over 30 high schools and colleges. The KORT team is committed to improving the lives of patients daily. Locally managed and operated, KORT has nearly 40 clinics specializing in orthopedics, sports and industrial medicine, with more board-certified specialists than any other physical therapy provider in Kentucky. For more information visit http://www.kort.com