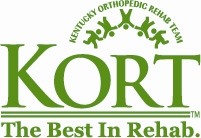 As with any injury, early treatment is essential to proper healing
Lexington, KY (PRWEB) April 13, 2012
As spring arrives more and more golfers will be dusting off their clubs and hitting the greens. Unfortunately, many will find themselves in the clubhouse with injuries rather than on the course vying for the club championship. Elbow pain, commonly referred to as golfer's elbow, is one of the more common medical complaints physicians treat in the early part of spring, but something that can be avoided.
"Golfer's Elbow, is pain on the inside of the elbow, generally characterized by tenderness along the bony prominence or inside of the forearm, painful gripping, and discomfort when you bend the wrist forward. You may also feel a shooting sensation down the forearm. It is called golfer's elbow because typically it is a result of the forceful gripping of the golf club by the wrist and forearm muscles," said KORT's Dr. Chris Kaczmarek PT, DPT, OCS, CSCS.
According to Kaczmarek, the condition is due to repetitive stress and overuse of the tendons that connect the muscles to the bone. With repetitive activity patients experience inflammation in the muscle-tendon junctions which cause pain and limit activity, he said.
As with any injury, early treatment is essential to proper healing, said Kaczmarek.
"The longer the injury progresses, the more likely additional scar tissue will develop and further complications will arise that may be more difficult to treat. An acute problem may develop into a chronic problem," said Kaczmarek. "A physical therapist can create a treatment program to ensure proper healing of the injured tissue. Treatment should include a stretching and strengthening program, and may include changes to the activity to help reduce stress to the area, changes such as adjusting the size of the racquet or club grip, taking stretch breaks and performing adequate warm up."
Tips and Exercises to Help Avoid Golfer's Elbow
Keep a firm, but not tight grip on your club
Poor swing mechanics can create a variety of injuries including those to the elbow. Getting help from a pro and taking a few lessons to treat your swing may help avoid injury.
Perform simple stretching exercises, focusing on your arms, shoulders, back, and legs before you play.
Avoid elbow problems by strengthen your forearm muscles with these simple exercises:

Squeeze a tennis ball for 5 minutes in each hand.
Using a lightweight dumbbell, lower the weight to the end of your fingers, and then curl the weight back into your palm. Continue the motion by curling the weight up your wrist about an inch or two higher. Do this 10 times with each arm.
Using a lightweight dumbbell, place your hands in front of you, palm side down. Using your wrist, lift the weight up and down. Hold the arm that you are exercising above your elbow with your other hand to limit the motion to your forearm. Do this 10 times with each arm.
Kentucky Orthopedic Rehab Team (KORT) has been serving the communities of Kentucky and Southern Indiana for over 25 years, providing clinical excellence and customer service in outpatient physical and occupational therapy. KORT clinicians work one-on-one with patients to regain strength, increase flexibility, improve mobility, and reduce pain without drugs or surgery. Licensed athletic trainers provide sports medicine to over 30 high schools and colleges. The KORT team is committed to improving the lives of patients daily. Locally managed and operated, KORT has nearly 40 clinics specializing in orthopedics, sports and industrial medicine, with more board-certified specialists than any other physical therapy provider in Kentucky. For more information visit http://www.kort.com