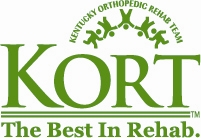 One way to help prevent injuries is to become involved in a comprehensive strengthening and flexibility regimen
Lexington, Kentucky (PRWEB) September 30, 2012
The success of the USA Olympic Gymnastics team will mean more little girls and boys heading to the gym to work on their handstands and back flips. Unfortunately, not all these training sessions will be injury free. In fact, injuries among youth gymnasts are on the rise in the United States.
According to the SAFE KIDS Campaign, nearly 23,500 children ages 5-14 were treated in hospital emergency rooms for gymnastic related injuries last year. Statistics show that there are just as many injuries in gymnastics as there are in contact sports such as football and rugby. For every 10,000 children who participate in gymnastics, 52 will end up in the hospital every year, and most are between the ages of 6 and 17.
"As gymnastics routines become more complex the risk for injury rises," said KORT physical therapist Jenni Tuska, PT, DPT. "The most common injuries are in the ankles, lower back, knees, wrists, and hands. These types of injuries can be a caused by overuse and if left untreated can lead to chronic pain and more severe injuries."
Tuska says one way to help prevent injuries is to become involved in a comprehensive strengthening and flexibility regimen. The following exercises can help you get started:
Strengthening Exercises

Strengthen the core: It is very important to have a strong gluteus and hips to support both the back and the knees when high impact tumbling is involved.
o Walk side to side with or without a resistive band at your ankles
o Lay on your stomach with arms down by your side, lift your chest off the ground and slowly lower back down.
Strengthen the upper body: Not only are your asking a lot of your lower body, but your upper body is enduring a great amount of stress as well
o Lie on your stomach and extend your arms above your head forming a "Y" lift both arms up and then back down.
o Repeat this exercise with arms extended at a 90 degree angle from your body, thumbs facing up and then with arm at your side with palm facing down.
Strengthen the ankles and hips:
o Practice standing on one foot on various surfaces (foam, BOSU ball, etc.) for 30 seconds to a minute at a time.
o Lunges and squats will help strengthen the hips.
o Lie on your side with the top leg extended, raise and lower the leg to strengthen the hip.
If an athlete does become injured, it is important to seek help as soon as possible says Tuska.
"If the injury is not treated properly you're setting yourself up for re-injury at a later date, or even a potentially more serious one," said Tuska. "A physical therapy evaluation will determine if you have any strength or flexibility deficits. The therapist will place you on an individualized program to correct these specific imbalances. This will help you to become a more proficient athlete and prevent further injury to the involved structures."
Kentucky Orthopedic Rehab Team (KORT) has been serving the communities of Kentucky and Southern Indiana for over 25 years, providing clinical excellence and customer service in outpatient physical and occupational therapy. KORT clinicians work one-on-one with patients to regain strength, increase flexibility, improve mobility, and reduce pain without drugs or surgery. Licensed athletic trainers provide sports medicine to over 30 high schools and colleges. The KORT team is committed to improving the lives of patients daily. Locally managed and operated, KORT has nearly 40 clinics specializing in orthopedics, sports and industrial medicine, with more board-certified specialists than any other physical therapy provider in Kentucky. For more information visit http://www.kort.com
###