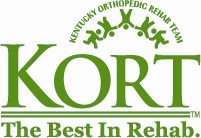 KORT Home Health Care is unique in their ability to provide a continuum of care from home to KORT outpatient care
Louisville, Kentucky (PRWEB) June 26, 2013
For Corydon resident Jim Elliott, the new KORT Home Health Care service made his recovery from shoulder surgery easier and faster.
"I was in quite a bit of pain when I came home from the hospital. KORT Home Health came to my house following my discharge from the hospital. The nurses were very courteous, attentive and extremely knowledgeable. It was a very positive experience for me," said Elliott.
The KORT Home Health Care nurse worked with Elliott on pain management and the physical therapist began an exercise treatment program, according to Elliott.
"My home health care services continued for a few weeks, until I felt comfortable traveling in my car, then I continued physical therapy at a KORT outpatient clinic near my home," he said. "Because of the quality of care and professionalism of the home health staff, I felt comfortable and confident continuing treatment with KORT."
KORT Home Health Care is unique in their ability to provide a continuum of care from home to KORT outpatient care, said KORT Home Health Executive Shauneen Bouthilette, RN, MSN.
"The transition from home care to care at the KORT clinic was basically seamless. When I arrived at the outpatient clinic, the therapist knew how much progress I had made with KORT Home Health. Everyone was prepared to continue my road to recovery. With KORT, I knew I would be back where I needed to be. Everyone at KORT was really wonderful. They were sincere and genuinely invested in my recovery," said Elliott.
About KORT Home Health Care
According to Bouthilette, patients like Elliott truly benefit from the expertise KORT can provide.
"We believe we are leaders in our industry for nursing and physical therapy. Our highly trained therapists are board certified in conditions related to orthopedic surgeries, but their knowledge doesn't stop there. KORT nurses and physical therapists provide comprehensive health care and education in the areas of diabetic management, cardiac and pulmonary rehab, oncology care, and medication management. KORT's disease management encompasses the entire well being of the patient," said Bouthilette.
KORT President Jason Chambers states, the new home health care service was a natural extension of the care already provided.
"This program allows us to serve our patient population and provides a necessary transition from hospital to home. It's the continuum of care that translates into far better outcomes for all patients," he said.
Recently, KORT Home Health was accredited by the Accreditation Commission for Health Care (ACHC).
KORT Home Health Care Services:

Comprehensive Skilled Nursing Care to include wound vacs, IV therapy, pain management
Expert Orthopedic Rehabilitation
Pre and Post-operative education for orthopedic surgeries and total joint replacement
Fall Prevention
Vestibular Rehabilitation
Diabetic management
Cardiac and pulmonary care/rehab
Oncology care
Medication Management
KORT is currently offering home health services in Floyd, Clark and Harrison Counties in Indiana. For more information, call 855-315-5095 or visit http://www.kort.com Most insurances are accepted.
Kentucky Orthopedic Rehab Team (KORT) has been specializing in outpatient physical and occupational therapy in Kentucky and Southern Indiana for over 25 years. Local ownership and independent operations, allow KORT clinicians to work one-on-one with patients to regain strength, increase flexibility, improve mobility, and reduce pain without drugs or surgery. Selected as a "Best Places to Work in Kentucky" for nine consecutive years, and with over 40 locations, KORT has the most board certified Orthopedic Specialists and Vestibular Rehabilitation specialists than any other provider in the region. KORT's certified athletic trainers provide sports medicine services to more than 30 high schools and colleges in Kentucky & Southern Indiana.
###