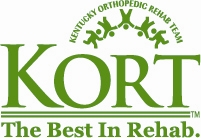 physical therapy should be the first line of treatment for patients suffering from neck pain
Lexington, Kentucky (PRWEB) September 12, 2012
It's estimated that more than a third of the general population will experience neck pain this year. According to a 2012 study by Cleland, one-third of those patients will develop chronic symptoms lasting more than six months. And, as people age, the likelihood of experiencing neck pain increases.
According to KORT physical therapist Chris Kaczmarek PT, DPT, OCS, CSCS the unique anatomy of the neck and cervical spine make it more susceptible to injury and wear and tear. The cervical spine and its associated muscles, ligaments, joints, and nerves have multiple responsibilities, including twisting, balancing, rotating, and keeping your head, at a weight of 12-15 pounds, steady, he said.
In a recent review of 17 studies, Miller et al concluded that a combination of manual therapy and exercise produced the best long term benefits for pain reduction and improved quality of life, said Kaczmarek. The study demonstrated that manual physical therapy, the use of hands-on techniques including joint and soft-tissue mobilization designed to restore motion and reduce pain, and exercise, resulted in excellent clinical results in the treatment of neck pain while also providing a significant cost savings compared to usual physician care, he said.
"This study shows what we've been saying, that physical therapy should be the first line of treatment for patients suffering from neck pain," said Kaczmarek. "While most neck pain can be relieved by a few days of self care, sometimes neck pain can signify something more serious and lead to chronic symptoms that can ultimately affect the overall quality of a person life. It's important to understand that neck pain is a symptom. If it has been several days and the pain is not getting better or getting worse, it's imperative to seek medical help."
Kaczmarek offers the following as signs that you may need to see a physical therapist.
Signs and Symptoms of Neck Pain

Pain in your neck that may feel sharp or dull
Stiffness in your neck
Trouble turning your head when driving
Difficulty going about your daily tasks because of pain or stiffness in your neck
Shoulder pain in addition to neck pain, in some cases
Back pain in addition to neck pain, in some cases
Difficulty sleeping
Headaches
According to Kaczmarek, KORT offers a number of treatment options that can be tailored to the specific needs of each patient.
"Physical therapists are musculoskeletal experts who have the necessary skills to assess whether a person who is experiencing neck symptoms will benefit from physical therapy," he said. "If you're experiencing any of the symptoms listed above, time is not on your side. The longer symptoms persist, the more likely they will become chronic and harder to resolve."
During the month of September, KORT clinics throughout Kentucky and Southern Indiana are offering a complimentary consultation for neck pain. A KORT Physical Therapist will provide a complimentary screening to help assess your condition. Visit http://www.kort.com for locations or call 1-800-645 KORT (5678) to schedule an appointment.
Kaczmarek provides the following tips to avoid neck injuries.
Tips to Avoiding Neck Injuries

Take frequent breaks if you drive long distances or work long hours at your computer.
Adjust your desk, chair and computer so the monitor is at eye level. Knees should be slightly lower than hips. Use your chair's armrests.
Avoid tucking the phone between your ear and shoulder when you talk-- get a headset.
Stretch frequently if you work at a desk. Shrug your shoulders up and down. Pull your shoulder blades together and then relax. Pull your shoulders down while leaning your head to each side to stretch your neck muscles.
Balance your base. Stretching the front chest wall muscles and strengthening the muscles around the shoulder blade and back of the shoulder can promote a balanced base of support for the neck.
Avoid sleeping on your stomach. This position puts stress on your neck. Choose a pillow that supports the natural curve of your neck.
Kentucky Orthopedic Rehab Team (KORT) has been serving the communities of Kentucky and Southern Indiana for over 25 years, providing clinical excellence and customer service in outpatient physical and occupational therapy. KORT clinicians work one-on-one with patients to regain strength, increase flexibility, improve mobility, and reduce pain without drugs or surgery. Licensed athletic trainers provide sports medicine to over 30 high schools and colleges. The KORT team is committed to improving the lives of patients daily. Locally managed and operated, KORT has nearly 40 clinics specializing in orthopedics, sports and industrial medicine, with more board-certified specialists than any other physical therapy provider in Kentucky. For more information visit http://www.kort.com