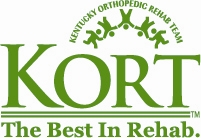 TMD disorders cause pain in the joint on either side of the head in
front of the ears, where the lower jawbone meets the skull
Louisville, Kentucky (PRWEB) December 17, 2012
Difficulty or pain when chewing or yawning, clicking or locking of the jaw, aching pain in and around your ear, headaches, neck pain, and ringing in the ears are some of the symptoms of temporomandibular joint disorder, or TMD. It's estimated that 50% of adults will experience TMD symptoms in their lifetime, but only 7% will actually seek treatment.
Katasha Roberts knows all too well the pain associated with TMD. She suffered for months unable to open her jaw completely and unable to eat certain foods as chewing was too difficult and painful. After trying a mouth guard and succumbing to a liquid diet, all without success, she sought treatment with KORT physical therapist Dr. Chad Garvey PT, DPT, OCS, FAAOMPT. Now, after 3 visits of physical therapy, Katasha is able to eat anything she wants and chew without pain.
"If you're experiencing persistent pain or tenderness in your jaw and neck or if you can't open or close your jaw completely, you need to get help," said Garvey. "Many people just try to wait it out or assume there's nothing that can be done, when in fact, physical therapists, using manual therapy techniques, can help alleviate the pain."
According to Garvey, TMD disorders cause pain in the joint on either side of the head in front of the ears, where the lower jawbone meets the skull. The easy movement of this joint is what allows us to talk, chew and yawn, he said.
While TMD occurs most commonly in women between the ages of 30 and 50, it can affect anyone, especially those with an uneven bite, chronic fatigue syndrome, sleep disorders, chronic stress, rheumatoid arthritis, and fibromyalgia, said Garvey.
Treating TMD
The treatment involves hands on mobilization of the jaw and the tissues surrounding the area, as well as treatment of the neck, upper back, and shoulder girdle using a variety of manual physical therapy techniques including soft tissue, spine or other joint mobilizations, as well as trigger point dry needling, said Garvey. Exercise is also incorporated in the areas described, to improve posture, neck mobility, muscle strength and balance around the joint, which are essential to improve joint motion, he said.
"Patients can see improvement in chewing and sleep, fewer headaches and joint noise reduction after the first one-hour treatment," said Garvey. "We also provide patients with exercises they can do at home to help strengthen the area including the neck and spine, and provide ergonomic education to help prevent reinjury. Depending on the severity and length of time the problem has occurred, patients can expect anywhere from 8-12 visits."
"If there's hope for me, surely there is hope for everyone," said Roberts.
Throughout the month of December, all KORT clinics throughout Kentucky and Southern Indiana are offering a complimentary consultation for TMD. A board-certified physical therapist will provide a complimentary consultation to help assess your condition. Visit http://www.kort.com or call 1-800-645 KORT (5678) to schedule an appointment.
Most health insurance plans now allow patients to seek physical therapy treatment directly without a physician referral.
Kentucky Orthopedic Rehab Team (KORT) has been serving the communities of Kentucky and Southern Indiana for over 25 years, providing clinical excellence and customer service in outpatient physical and occupational therapy. KORT clinicians work one-on-one with patients to regain strength, increase flexibility, improve mobility, and reduce pain without drugs or surgery. Licensed athletic trainers provide sports medicine to over 30 high schools and colleges. The KORT team is committed to improving the lives of patients daily. Locally managed and operated, KORT has nearly 40 clinics specializing in orthopedics, sports and industrial medicine, with more board-certified specialists than any other physical therapy provider in Kentucky. For more information visit http://www.kort.com
# # #