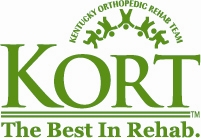 Those suffering from neck tension, headaches, back pain, shoulder pain and other painful muscular issues can benefit from TDN
Louisville, Kentucky (PRWEB) October 09, 2012
Earlier this year the American Physical Therapy Association (APTA) approved the use of trigger point dry needling (TDN) by trained physical therapists for the treatment of chronic and acute muscle pain. The dry needling technique targets trigger points or hypersensitive areas within a muscle to increase healing and decrease pain and tightness in the area.
Those suffering from neck tension, headaches, back pain, shoulder pain and other painful muscular issues can benefit from this type of intramuscular stimulation, according to KORT physical therapist, Chad Garvey PT, DPT, OCS, FAAOMPT.
"The needles we use are very thin and solid. Most patients don't feel them so even people who are afraid of needles can tolerate this treatment," said Garvey. "The needle is gently inserted, moved slightly and then removed. With TDN, we target and treat specific muscles unlike Acupuncture where needles are used to treat meridians and energy channels throughout the body."
According to Garvey, patients likely will experience small muscle twitching or an achy or crampy feeling during the procedure. These are signs that the trigger points, or the points of muscle tension and pain, are being relaxed, he said. We then follow the treatment with exercise specifically designed to target the area treated in an effort to prevent the problem from returning.
Garvey says that patients can experience muscle soreness, like they've been working out at the gym. He recommends patients drink plenty of water and staying somewhat active following a treatment, even continuing their current exercise regimen. Most patients feel better later that same day or in a day or two following the trigger point dry needling procedure, he said.
The state of Kentucky supports the use of the TDN as within the scope of practice for trained, licensed physical therapists. Not all states have approved this method. The procedure is also covered by insurance in Kentucky.
"Dry needling offers us an adjunct to the manual physical therapy treatments and exercise we're doing now. It requires additional training and advanced knowledge of the musculoskeletal system. As with all medical treatment, patients should choose a licensed and properly trained professional," said Garvey.
Kentucky Orthopedic Rehab Team (KORT) has been serving the communities of Kentucky and Southern Indiana for over 25 years, providing clinical excellence and customer service in outpatient physical and occupational therapy. KORT clinicians work one-on-one with patients to regain strength, increase flexibility, improve mobility, and reduce pain without drugs or surgery. Licensed athletic trainers provide sports medicine to over 30 high schools and colleges. The KORT team is committed to improving the lives of patients daily. Locally managed and operated, KORT has nearly 40 clinics specializing in orthopedics, sports and industrial medicine, with more board-certified specialists than any other physical therapy provider in Kentucky. For more information visit http://www.kort.com