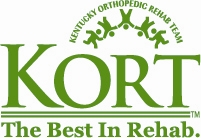 If you have had an injury over the weekend, come to KORT so we can get you back in the game
Lexington, KY (PRWEB) August 15, 2012
KORT Physical Therapy will offer complimentary injury assessment clinics at nine locations around Lexington on a walk-in basis and six locations around Louisville for student athletes who've been hurt over the weekend. Board certified KORT physical therapists will be on hand to assess injuries and advise on treatments. Concussion injury testing can also be done at these sites.
Complimentary Walk-In Clinics will begin on Monday, August 20th from 7am-8am at the following KORT Louisville Clinics: Springhurst, J-Town, Partners in PT, Crestwood, Shivley Center, and Preston and 7:30am-8:30am at the following KORT Lexington Clinics: Beaumont, Bryan Station, Brannon Crossing (4pm-5pm), Chevy Chase, Georgetown, Nicholasville, Tates Creek, Richmond, and Winchester.
In addition, KORT will be offering concussion baseline testing prior to injury for just $5. When a student athlete is injured his or her physician can use this initial base line cognitive test as a comparison to help aid in determining the athlete's readiness to return to play. The test takes about 20 minutes and measures multiple cognitive functions including: attention span, working memory, reaction time and non-verbal problem solving. To schedule an appointment for Concussion Testing, call 1-800-645-KORT to find the closest clinic to you.
Kentucky Orthopedic Rehab Team (KORT) has been serving the communities of Kentucky and Southern Indiana for over 25 years, providing clinical excellence and customer service in outpatient physical and occupational therapy. KORT clinicians work one-on-one with patients to regain strength, increase flexibility, improve mobility, and reduce pain without drugs or surgery. Licensed athletic trainers provide sports medicine to over 30 high schools and colleges. The KORT team is committed to improving the lives of patients daily. Locally managed and operated, KORT has nearly 40 clinics specializing in orthopedics, sports and industrial medicine, with more board-certified specialists than any other physical therapy provider in Kentucky. For more information visit http://www.kort.com