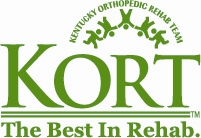 "For many who suffer from dizziness, KORT's VRT program can help by controlling or lessening complaints of dizziness through graded exercises
(PRWEB) April 18, 2013
According to the National Institute of Health (NIH), balance problems are among the most common reasons older adults seek help from a doctor. Balance or vestibular issues are reported in about 9 percent of the population 65 and older. In fact, a recent, large epidemiological study estimates that as many as 35% or approximately 69 million adults in the United States age 40 and older have experienced some form of vestibular dysfunction.
Many people are surprised to learn that the source of their imbalance may be in their inner ears, according to KORT physical therapist Robin Harrington, DPT who is certified by the American Institute of Balance in the treatment of vestibular disorders. Symptoms include exaggerated sense of motion, lack of coordinated movement, dizziness, vertigo, nausea and vomiting, difficulty with walking, motion sickness, blurred vision with head movement, an inability to visually concentrate and/or sensitivity to busy environments, she said.
"The word "dizzy" is used to describe everything from feeling faint or lightheaded, to feeling weak or unsteady. It can take away independence and safety by affecting your equilibrium and sense of balance. Dizziness that creates the sense that you or your surroundings are spinning or moving is called vertigo," said Harrington.
Treating Balance Disorders
Vestibular rehabilitation therapy (VRT) is an exercise-based program designed to help the central nervous system compensate for inner ear deficits and decrease the episodes of dizziness. The individualized treatment plan includes specific head, body, and eye exercises designed to retrain the brain to recognize and process signals from the vestibular system and coordinate them with information from vision and proprioception. The goal of treatment is to minimize dizziness, improve balance and prevent falls by restoring normal function of the vestibular system.
"For many who suffer from dizziness, KORT's VRT program can help by controlling or lessening complaints of dizziness through graded exercises geared to strengthen each component of the vestibular/balance system. As symptoms decrease, the difficulty of the exercises increase, until the highest level of balance is reached," said Harrington.
Most KORT clinics now have physical therapists with advanced training & certification in designing customized rehabilitation programs to assist those struggling with balance deficits, dizziness, or vertigo. According to Harrington the extensive training and certification process they received from the American Institute of Balance provided them with the tools to better assess and treat this extremely debilitating disorder.
Most health insurance plans now allow patients to seek physical therapy treatment directly without a physician referral.
Kentucky Orthopedic Rehab Team (KORT) has been specializing in outpatient physical and occupational therapy in Kentucky and Southern Indiana for over 25 years. Local ownership and independent operations, allow KORT clinicians to work one-on-one with patients to regain strength, increase flexibility, improve mobility, and reduce pain without drugs or surgery. Selected as a "Best Places to Work in Kentucky" for nine consecutive years, and with over 40 locations, KORT has the most board certified Orthopedic Specialists and Vestibular Rehabilitation specialists than any other provider in the region. KORT's certified athletic trainers provide sports medicine services to more than 30 high schools and colleges in Kentucky & Southern Indiana.
###