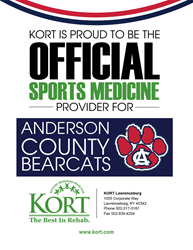 We look forward to providing the student athletes in Anderson County with the same outstanding care that we currently provide to more than 30 high schools and colleges around the state
Lexington, Kentucky (PRWEB) July 28, 2015
Recently, the Anderson County Board of Education named KORT (Kentucky Orthopedic Rehab Team) as the sports medicine provider for the entire school district including Anderson County Middle School (ACMS) and Anderson County High School (ACHS).
According to ACHS Athletic Director Rick Sallee, "Student safety and well-being are a top priority for us in Anderson County. To ensure our student athletes have the best care possible, we retained the services of KORT."
When an athlete goes down on the playing field, the KORT athletic trainer will be the first responder to prevent or treat an injury, said Sallee.
"In addition to immediate, quality health care services at games, matches and practices, the KORT trainers will also educate students and parents about healthy lifestyles, proper nutrition and safe exercise regimens that can help them stay healthy throughout their lives. An added benefit is that athletic trainers can assess an injury to determine proper referral and eliminate unnecessary emergency room and physician visits, which can be costly to parents," said Sallee.
These services will be available for all KHSAA sanctioned sporting events and practices hosted by Anderson County Schools, said Sallee.
According to KORT Director of Sports Medicine Doug Means, KORT will provide the following services:

40 Hour per week NATA Certified Athletic Trainer
Coverage for practices and games for fall, winter and spring sports
Coverage for middle school if not working high school and on as needed basis
Records of treatment for injuries and rehabilitation procedures
Consultation on equipment and program design
Clinics for students, parents and coaches
Functional Movement Screens
Baseline Concussion testing ($1 charge)
Parent educational sessions
Coaching education
Consultation/assessment on minor injuries and follow up with student athletes
"We look forward to providing the student athletes in Anderson County with the same outstanding care that we currently provide to more than 30 high schools and colleges around the state. Student athletes today are conditioning harder and playing longer seasons than ever before which leads to sprains, strains and injuries. As the largest sports medicine provider in the region KORT's staff of Certified Athletic Trainers stays current with all the latest treatments to ensure our athletes get the best care possible," said Means.
For over 27 years, Kentucky Orthopedic Rehab Team (KORT) has been the specialist in outpatient physical and occupational therapy in Kentucky and Southern Indiana. Local ownership and independent operations allow our therapists to work one-on-one with patients helping them to regain strength, increase flexibility, improve mobility, and reduce pain without medication or surgery. Selected as a "Best Places to Work in Kentucky" for 11 consecutive years, and with over 40 locations, KORT has the most board certified Orthopedic Specialists and Vestibular Rehabilitation specialists of any other provider in the Commonwealth. KORT's certified athletic trainers provide services to more than 30 high schools and colleges making us the largest sports medicine provider in the region. KORT has improved more lives by providing compassionate care to more people, in more communities, and in more locations than any other outpatient physical or occupational therapy provider in the state of Kentucky. Through our years of commitment to the physicians and patients of Kentuckiana, KORT is time tested and most trusted.
###