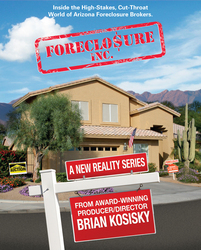 Washington, D.C. (PRWEB) October 2, 2009
Kos Films has completed principal photography of the first season of Foreclosure, Inc., "the first television reality documentary series to explore the foreclosure crisis in America." The program is presented as a 10-episode series set in Phoenix, the fifth most populous state in the U.S., and Maricopa County, with the most foreclosures of all counties in the U.S. The series will air on cable television in 2010. 2008 Gracie Award-winning director Brian Kosisky serves as Executive Producer.
Foreclosure, Inc. takes reality television viewers on a roller-coaster ride into the wild world of foreclosure investing. For over two months, Kosisky's crew was granted exclusive, unprecedented access to the inner workings of the top foreclosure broker in Arizona, and assembled in various sites around Phoenix, including Maricopa and Pinal counties. Viewers meet and become intimately acquainted with the investors, brokers, house-drivers, auctioneers, protesters, and tenants who come together under the most hopeless and desperate of circumstances, resulting in the most emotional and compelling real-life drama seen on television to date.
The stakes are high as homeowners face crushed dreams, and personal and professional failures, as investors and brokers attempt to make the best of a collapsed market. Kos Films captures the unfolding events, placing an emphasis on the personalities involved and the conflicts that arise between the characters.
To view the much anticipated trailer for Foreclosure, Inc., please visit Kos Films.
Kos Films, LLC is a private production company formed by filmmaker Brian Kosisky who utilizes high definition digital filmmaking to create compelling content with a focus on telling each story with maximum emotional impact. Kosisky's national Emmy, Dupont Gracie, and Peabody Award-winning team of filmmakers produces programming for national television networks, focusing on hour-long documentaries. Previous Kos Films productions include the Gracie Award-winning PBS film, Breaking the Curse, Solar Town USA, which will air in 2010, and the feature film, Call of the Shadow Wolves. Before creating Kos Films, Kosisky served as senior producer and national news editor for CNN, where he produced and edited feature stories and special projects for the network. Seen by millions of television viewers around the world, Kosisky's work has captured some of the most important and compelling news events of the last decade.
# # #