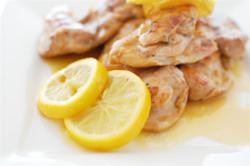 Kosher Deli - Making Kosher Affordable
London (PRWEB UK) 3 December 2012
Lemon Chicken is an easy chicken recipe that takes only minutes to prepare until oven-ready. The results are delicious and fill your home with the enticing aroma of lemon and oregano. This chicken recipe is baked with potatoes together with the meat in the casserole dish, a bonus.
Note: you will need at least 2-3 lemons for this recipe.
Ingredients:
•1 chicken, cut-up, skin on (trim visible fat)
•Salt and pepper, to taste
•Juice of 1 1/2 fresh lemons
•1/2 tbsp. oregano (dry is good, the best quality that you can find)
•1 cup olive oil
•1 cup water
Preheat oven to 375 degrees F.
Place pieces of chicken in a large greased baking dish, in a single layer.
Coat pieces generously with salt, pepper, lemon juice and oregano.
Pour olive oil and water over chicken.
Ingredients for the potatos:
•6 medium potatoes, cut into quarters
•1/2 tbsp. chicken soup base
•Juice of one lemon
•1/2 tbsp. dried oregano
•1/8 tsp. salt
•1/8 tsp. pepper
In a bowl, combine chicken soup base, lemon juice, oregano, salt and pepper.
Mix well. Add the potatoes and blend well.
Place potatoes in baking dish beside chicken, in a single layer if possible.
Turn them in the oil-water mixture in the baking dish.
Bake for one hour, uncovered, baste a couple of times. Add a bit of water if the pan becomes too dry.
Serves 4.