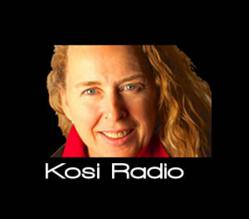 Kosi Radio simply unveils the great secret of directly discovering lasting happiness and freedom."
Kauai Hawaii (PRWEB) February 07, 2013
Ramana Maharshi has been dead for over sixty years, but his teaching and transmission lives on. Kosi, a long time student of Gangaji and devotee of Sri Ramana Maharshi, continues his teaching with this new ground breaking online radio program, Kosi Radio—Living Now Living Freedom, launching this Saturday February 9th at 6PM Pacific Time.
Kosi recently stated, "Ramana Maharshi was a phenomenon when he was alive, but once he left his body the silent transmission of his teaching can only be described as miraculous. Thousand of people still travel to his ashram in Tiruvanammalai India every year just to sit in the transformative silence that pervades the room where he taught. After over eleven years of living in a deep silent samadhi state, this great sage transmitted and still transmits the great secret of living a life of happiness and fulfillment regardless of whether you were a house holder or a renunciate. Truly his life and teaching is simply living now living freedom."
Kosi has studied the life and teaching of Ramana for over eleven years, and after visiting his ashram in India, is intimately aware of the power and grace of Ramana's timeless silent transmission and life changing teaching. One of the great gifts of Ramana was his insistence that you can become enlightened even while living an ordinary life. Satsangs based on Ramana's teaching, is by its very nature a down to earth, intimate, and a real spiritual conversation that is the essential support for true freedom—true redemption—liberation from endless cycles of suffering.
After traveling around world offering satsang in 2012, Kosi realized that the real in-depth spiritual conversation, essential for true liberation, was almost non-existent in the spiritual culture of awakening that is unfolding around the world. She recognized that the real-life challenges people are dealing with; anxiety, drug addiction, ptsd, chronic pain, depression, financial burdens, death and other life challenges, necessitates a much deeper, more real, spiritual conversation and teaching.
Even though many people attend satsangs around the world that are based on Ramana's teaching, it represents a very small number of people in the context of the global population, and an even smaller number actually awaken to their true nature. Kosi Radio will be a catalyst for a deeper more real spiritual conversation that can offer support to people who find themselves struggling in their lives with real life challenges, but feel a deep indescribable calling for freedom.
Kosi illuminates, "A true spiritual meeting keeps it simple and real (honest). One of the great gifts of Ramana is his direct honest simplicity and insistence that you can become enlightened while living an ordinary life. To continue his teaching, simply means to stop and get real about what is happening in our lives so we can see directly for ourselves what is never affected or changed by anything in our lives. Kosi Radio simply unveils the great secret of directly discovering lasting happiness and freedom."
She explains, "There is a lot of very superficial spiritual teaching being offered around the world—feel good stuff or chasing the bliss or states of consciousness that actually perpetuates suffering, but Kosi Radio gets to the real depth of spirituality by addressing the uncomfortable real-life concerns and problems people are faced with in their everyday lives. Telling ourselves the truth and getting real about what is happening in our lives, opens us to a profound discovery of the freedom and happiness of our true nature regardless of our constantly changing circumstances. Kosi Radio takes the lid off the spiritual conversation by getting real about the life challenges that seem to keep us from realizing the natural freedom and lasting happiness of our true nature."
In a recent conversation with Kosi, Francine de las Alas said that she was not surprised by Kosi's invitation to co-host this ground breaking program. The synchronicity of this invitation is in perfect alignment with her life purpose and is the essence of her role as Happiness Coach. Francine explains, "In general, life purpose is only a slice of the world of happiness and very ephemeral. In the way I have come to understand happiness and spirituality, they are much bigger that that. There is much more dimension to happiness. The bottom-line it brings and connects also to spirituality, the highest self, the highest purpose, and the language of happiness can be simplified and explained. The synchronicity of this invitation is remarkable and already phenomenal!"
Kosi and Francine both realize that happiness is the essence of life itself. Based on their collective experience they realize it is essential to openly and honestly discuss what you think is holding you back from living a happy and fulfilled life. Kosi and Francine have different life experiences, and even different perspectives on how to end your suffering, but their passion is ending the suffering that is so prevalent on throughout the world. Both take this program very seriously and feel it will be a catalyst for the real support necessary to break through the suffering nature of life.
The premier of Kosi Radio goes live this Saturday and dives right in to one of the most uncomfortable subjects of life—death. Both Francine and Kosi feel that diving right into one the subject that we naturally tend to avoid is the best way to kick off this very real, inspiring, uplifting, challenging, and life changing program.
Kosi is an internationally recognized spiritual teacher who has given her life in service to all who desire what is known as liberation or moksha. She has deep understanding and compassion for the real-life issues that people are suffering with around the world and has over eleven years of experience with the life-changing teaching of Ramana Maharshi as well as the omniscient support of Sri Amma Karunamayi, the gobally recognized living Saint and Avatar who is Kosi's guru and final teacher. She is currently offering satsang and retreats where she is invited around the world.
Francine de las Alas, is an expert in the field of Happiness. She hosts her own radio show in Manila called Happy Thoughts and also gives workshops, seminars, talks and lectures on Happiness. Her programs range from The Dimensions and Aspects of Happiness, to Happiness Building, Recovery, and Therapies as well as the Happiness Gateways 360° Building Block Program Module Series. In addition, she also had established the first authentic happiness center—The Happiness Clinic in Manila Philppines.
For more information about Kosi Radio, please visit our new facebook page.