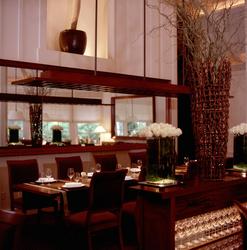 dramatic start to a beautifully paced and executed dinner
St. Helena, CA (PRWEB) February 23, 2010
Beginning with an amuse that created a "dramatic start to a beautifully paced and executed dinner," Michael Bauer, Restaurant Critic for the San Francisco Chronicle, awards Chef Christopher Kostow and The Restaurant at Meadowood team an overall four-star rating.
"There are fewer true fine dining establishments today than there were even a decade ago. Some experts predict the demise of these high-end restaurants. ... Yet, these restaurants provide something you won't find anyplace else. Each of them offers a glimpse into the soul of the chef and provide a sense of place. ...
... what has survived is better than ever."
-- Michael Bauer, Restaurant Critic, San Francisco Chronicle, February 18, 2010
"The Passion of the Four-Star Restaurant": Michael Bauer's Blog - Between Meals
"When I reviewed the restaurant more than a year ago, I thought that Kostow, a 2008 Chronicle Rising Star, was destined to become a four-star chef but needed time to prove himself. My recent meal has shown he's done just that. From start to finish, he commands the kitchen, creating dishes you won't find on any other menu, served in a dining room awash with elegance and good taste. … Service is refined, with waiters appearing when you need them….
The decision to reopen the restaurant after a three-year hiatus a few years back was a good one for those who love this grand style of dining. Kostow is in fine form, rarely missing a beat and leaving diners practically breathless waiting for his next feat of culinary acrobatics."
-- Michael Bauer, Restaurant Critic, San Francisco Chronicle, February 18, 2010
Full Article: San Francisco Chronicle Review
###