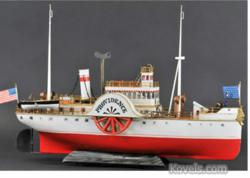 Cleveland, OH (PRWEB) July 30, 2012
The August 2012 "Kovels on Antiques and Collectibles" newsletter is now available in print and online.
Highlights include record-setting toy boats, a collection of Gustav Stickley's finest furniture and some fancy frames.
Toy boats by German toymaker Marklin found success at a Bertoia auction. One boat even set a record, selling for $247,250.
An auction at Treadway Toomey Galleries offered more than 50 of Gustav Stickley's revered furniture pieces. The collection included many pieces that were originally purchased at the 1901 World's Fair in Buffalo, N.Y. A rare library table with a leather top and reverse-tapered legs sold for $390,400.
The August issue of the "Kovels on Antiques and Collectibles" newsletter also contains prices and photos of antique inkwells, a dictionary of Noritake china marks and reader Q&A's. Plus Terry Kovel writes about more highlights from the Antique City Fun Fair in Bethlehem, Pa.
About Kovels.com
Terry Kovel has written 100 books about collecting, including the best-selling annual price book, "Kovels' Antiques and Collectibles Price Guide." The 2013 guide will be in bookstores soon. Terry publishes a subscription newsletter and writes a syndicated newspaper column that appears in more than 150 newspapers and digital publications. She and her late husband, Ralph, starred in the weekly HGTV program, "Flea Market Finds with the Kovels." The Kovels website, Kovels.com, now offers more than 800,000 free prices and other information for collectors, including books, special reports, a weekly emailed letter to collectors, marks and an archive of other informative material. The Kovel brand is run by Terry Kovel and her daughter, Kim Kovel.
Contact:
Liz Lillis
216-752-2252
pr(at)Kovels(dot)com