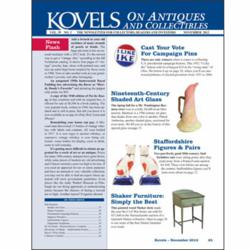 Cleveland, OH (PRWEB) November 01, 2012
The November 2012 "Kovels on Antiques and Collectibles" newsletter is now available in print and online.
A button from the 1960 presidential campaign that pitted John F. Kennedy against Richard M. Nixon sold for $806 and was the most expensive presidential campaign pin in the "Kovels on Antiques and Collectibles" sale report—part of the just-published November 2012 issue. The 4-inch celluloid pinback pictures John Kennedy and reads, "America Needs Kennedy." Thousands of political buttons, ribbons, posters and odds and ends were in the sale. An extraordinary collection of Shaker furniture sold at a fall auction. Pictures and prices of some of the best pieces are shown in Kovels' November newsletter. Top seller was a 7-foot trestle table that sold for over $198,000, while a Shaker sister's cupboard went for $122,850. Glass collectors know that Plated Amberina, a shaded art glass made in the late 1880s, always commands high prices. A five-piece Plated Amberina water set, a pitcher and 4 tumblers, sold for a whopping $21,850 at another recent auction. Photos, descriptions and prices of Plated Amberina and other types of colored art glass are in "Kovels' on Antiques and Collectibles" November newsletter.
Kovels' November newsletter also reports on Japanese netsukes—miniature works of art in ivory or wood that were used as toggles on cords that held money pouches for Japanese men. Figures of animals and people made at potteries in Staffordshire, England, are also featured, as well as metal sculptures—a tennis player, a javelin thrower, and others—made in the 1930s by artists at the Hagenauer workshop in Vienna. November's Dictionary of Marks shows marks found on Staffordshire figurines and Terry Kovel goes "on the road" to an antiques show in Ohio. Regular monthly features are here, too—the popular illustrated Collector's Gallery has answers to readers' questions about dollhouse furniture, an old food press and a couple of advertising posters. The Buyer's Price Guide lists current prices of dozens of antiques and collectibles.
With its mixture of expert advice and reports on what's hot in the market, Kovels' newsletter has something to offer for both beginning and experienced collectors. "Kovels on Antiques and Collectibles" is available as a print subscription or as a digital downloadable version that is part of the Kovels.com Premium subscription.
Terry Kovel, well-known columnist and author, gives information and advice on collecting. She will discuss antiques and collectibles topics with accredited media. Photographs are available. Contact pr(at)kovels(dot)com.
About Kovels.com
The online website, Kovels.com, created and managed by Terry Kovel and Kim Kovel, provides collectors and researchers with up-to-date and accurate information on antiques and collectibles. Kovels' Antiques was founded in 1953 by Terry Kovel and her late husband, Ralph. Since then, Kovels' Antiques has continually published some of America's most popular books and articles about antiques, including the best-selling "Kovels' Antiques and Collectibles Price Guide," now in its 45th edition. The Kovels' website, online since 1998, and free weekly email, "Kovels Komments," give readers a bird's-eye view of the market through up-to-date news, auction reports, an online Price Guide, a Marks Dictionary, readers' questions with Kovels' answers and much more.
Contact Information:
Liz Lillis
216.752.2252
pr(at)kovels(dot)com