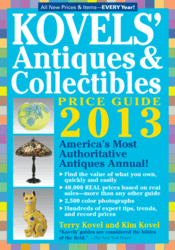 "America's most popular price guide for collectors, dealers, and appraisers." —The Journal of Antiques and Collectibles."
Cleveland, Ohio (PRWEB) August 21, 2012
Antique collectors in the know have been flocking to the Kovel family for their consummate knowledge of the business since the 1953 publication of their first collectors' guide. Now, with the 45th edition of the industry standard and leading price guide in antiques, "Kovels' Antiques & Collectibles Price Guide 2013," Terry Kovel and her daughter Kim present the latest antique prices in 700 unique categories.
With a nationally syndicated column, newsletter, and popular website, there is no doubt why the Kovels are "America's leading popular authorities on collectibles and antiques" (AARP). With over 40,000 listings and more than 2,500 full-color photographs, Kovels' Antiques & Collectibles Price Guide is the most complete and user-friendly price guide on the market. Organized to serve as a reader-friendly manual with indices and cross-references—from Depression Glass, Dolls, and Jewelry to Furniture, Porcelain, and Sports Memorabilia—the book showcases the timeliest and most extensive facts, including tips, marks, logos, information, and photographs.
Kovels' includes American and international items that are highly sought after by collectors, rather than solely spotlighting high-priced items, as some guides do. Expert commentary helps buyers and sellers understand the trends and pricing patterns for certain pieces, educating them to make wise decisions with their own collections. The special report on the previous year's record-setting prices further aids readers in buying, selling, and collecting with confidence.
ABOUT THE AUTHORS
Terry Kovel has been a lifelong collector expert and has written more than 100 books on antiques and collectibles. She writes a nationally syndicated column, a subscriber newsletter, and an e-newsletter. Terry lives in Ohio.
Kim Kovel, daughter of Terry and Ralph Kovel, caught the collecting bug as a child, growing up in a house filled with antiques and traveling regularly to antique shows and flea markets all over the country. She runs and contributes to the Kovels' website and has spent the last 13 years working on the Kovels' price guides and other Kovel projects. She lives with her family and her collections in Florida.
KOVELS' ANTIQUES & COLLECTIBLES PRICE GUIDE 2013
Terry Kovel and Kim Kovel
September 2012 / $27.95/ paperback / 736 pages / 2500 color photographs / ISBN: 978-1-57912-915-6
CONTACT: Stephanie Sorensen
Publicity Director
Black Dog & Leventhal
212-647-9336 x102
stephanie(at)blackdogandleventhal(dot)com