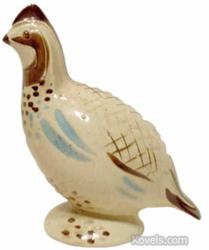 Cleveland, OH (PRWEB) July 13, 2012
The Top 10 most popular searches on Kovels.com for June 2012 were:
1. Occupied Japan
2. Doll
3. Jewelry
4. Coca-Cola
5. Bottle
6. Red Wing pottery
7. Clocks
8. Royal Copley
9. Bavaria
10. Royal Bayreuth
Kovels.com is a major source of prices and information for all sorts of antiques and collectibles. Topping the list for another month is Occupied Japan.
Also continuing in their spots from May were Doll (No. 2), Royal Copley (No. 8) and Royal Bayreuth (No. 10). Royal Copley and Royal Bayreuth are porcelain makers based in the United States and Bavaria, respectively. Users searching "Doll" are interested in both antique dolls and collector dolls made since the 1950s.
Moving up on the list was Coca-Cola (No. 5 to No. 4), always a popular American collectible because of the variety of the company's bottles, signs and its famous brand name. Bottles remained on the list, moving from third to fifth place, as did Clocks moving from fourth to seventh place.
New to the list in June was Jewelry (No. 3), a top search because collectors want current information on the rising prices of costume jewelry. Red Wing (No. 6) and Bavaria (No. 9) were also new to the list. Red Wing was an American pottery company, and both its tableware and modern vases are in demand. Bavaria, a state in Germany, is known for its porcelain. The word "Bavaria" has been a mark on many brands of porcelain from that area since the early 1800s, even before Bavaria was a German state.
About Kovels.com
Terry Kovel has written 100 books about collecting, including the best-selling annual price book, "Kovels' Antiques and Collectibles Price Guide." The 2012 guide is in bookstores now. Terry publishes a subscription newsletter and writes a syndicated newspaper column that appears in more than 150 newspapers and digital publications. She and her late husband, Ralph, starred in the weekly HGTV program, "Flea Market Finds with the Kovels." The Kovels website, Kovels.com, now offers more than 800,000 free prices and other information for collectors, including books, special reports, a weekly emailed letter to collectors, marks and an archive of other informative material. The Kovel brand is run by Terry Kovel and her daughter, Kim Kovel.
Contact:
Liz Lillis
pr(at)kovels(dot)com
216-752-2252