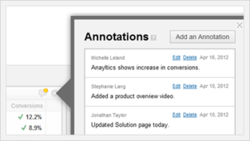 Context is fundamental to decision making. Annotations is an important, and often overlooked method in capturing and sharing anecdotal knowledge
Ottawa, Canada (PRWEB) April 19, 2012
Klipfolio Inc. today announced the release of version 1.4 for its mobile BI dashboard. Key to this update is annotations, a feature that lets users attach notes and insights to any Klip on their dashboard. When an annotation is added to a Klip, other users will be notified by a yellow indicator icon that appears in the corner of the Klip. The annotations feature is designed to encourage users to contribute their insights to key performance indicators (KPIs) for everyone to use.
Available now at app.klipfolio.com, this update adds the following features:

Annotations lets users share insights and observations.
Download data source from its info page improves data management.
Show values on bar and line charts for more detailed view of metrics.
"Context is fundamental to decision making. Annotations is an important, and often overlooked method in capturing and sharing anecdotal knowledge," says Allan Wille, CEO and President of Klipfolio. "We believe in a KPI dashboard that connects everyone in an organization, so that they can use their business expertise to improve performance and profitability."
About Klipfolio Inc.
Klipfolio develops Klipfolio Dashboard – the KPI Dashboard – to help the Fortune 1000 increase the visibility of key performance indicators for informed decisions that improve performance and profitability. Klipfolio Dashboard is the only enterprise dashboard that presents information where it's always visible and actionable. Clients include Intel, Staples, Aviva, Baxter Healthcare, and Lufthansa. For more information, visit http://www.klipfolio.com.
For more information visit http://www.klipfolio.com, call +1.877.233.6149 US and Canada or +1.613.233.6149 Worldwide, or email sales(at)klipfolio(dot)com.
For media inquiries only, please contact:
Allan Wille
+1 613 233 6149
press(at)klipfolio(dot)com