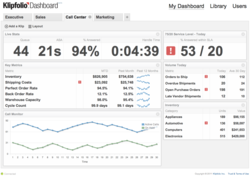 Klipfolio Dashboard for web and mobile is fused with our customer's DNA – a true user driven process.
Ottawa, Canada (PRWEB) September 14, 2011
Klipfolio Inc, the leading provider of KPI dashboards for the enterprise, today announced the final update to its beta for Klipfolio Dashboard for the cloud prior to a general availability announcement. The focus of this significant update was to improve real-time data updates as well as the user interface used for completing common tasks.
Available now at app.klipfolio.com, this update adds the following features:

Improved sharing work-flow, making it easier to share Klips, tabs, and data sources with other users.
Dashboard synchronization, allowing for modifications to be deployed across the organization quickly and without interruptions to end users.
New chart types, including inline bar charts and win/loss charts.
Improvements to the workspace and dashboard UI, including updates to the function selector.
A set of indicator icons that can be associated with KPIs to visually show a status or trend.
"Klipfolio Dashboard for web and mobile is fused with our customer's DNA – a true user driven process. 10 years of our own dashboard and business intelligence experience, real-world requirements and scenarios from our customers, and an extensive private and public beta has shaped our upcoming version one into something we are very proud of," commented Allan Wille, Klipfolio president and CEO.
Klipfolio Dashboard provides a consolidated view of real-time business performance metrics, helping everyone throughout the organization make quicker, more informed decisions, while improving performance and profitability.
Availability
Learn more about the beta at http://www.klipfolio.com/kpi-dashboard/beta, or sign up directly at https://app.klipfolio.com.
About Klipfolio Inc.
Klipfolio develops Klipfolio Dashboard – the KPI Dashboard – to help Fortune 1000 companies increase the accessibility and visibility of key performance indicators to make informed decisions that improve performance and profitability. Clients include; Blue Cross Blue Shield, Aviva, Baxter Healthcare, Research in Motion, and Lufthansa.
For more information, visit http://www.klipfolio.com. Call +1.877.233.6149 US and Canada or +1.613.233.6149 Worldwide, or email sales(at)klipfolio(dot)com.
For more information, please contact:
Allan Wille
Klipfolio Inc.
Phone:+1-613-233-6149
Email: press(at)klipfolio(dot)com
###